Kitchens are the most used and vital spaces of any house and there's no doubt about it. You need to have enough storage, accessibility and durability running through the entire space. You can make the space look more attractive and a little expensive by incorporating a few industry special tips and tricks, without investing too much time or money. It will also increase the value of your property and give your kitchen the much-required makeover. Here are some tips: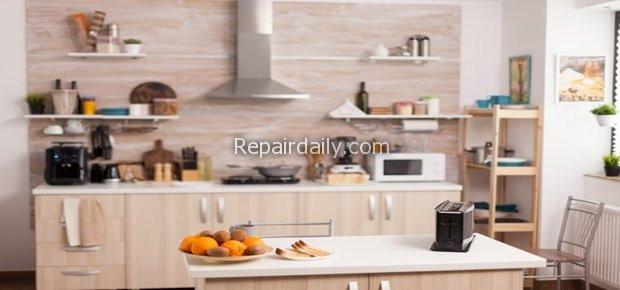 Upgrade Your Hardware
Hardware items such as taps, handles, cabinet and drawer pulls are magnets for germs and infestation. Especially after COVID-19, one must pay attention and be aware. Having said that, the smoke, oil and other sticky substances can make this hardware look old and dull. Upgrading them to gold-tone or rose gold tone would instantly lift up the space and give it a new look altogether.
---
Add Greenery
If your kitchen has some space to spare, throw in some shades of green by getting some low maintenance plants to add some pizazz. Keep them near the window so that they get proper ventilation and enough sunlight. You can also hang them in a vertical nursery if your kitchen walls allow it.
Select Right Flooring
Since kitchens are among the areas that experience heavy footfalls, you need to install a strong and long-lasting material on the floor – such as a tile floor. Vitrified, germ-free, and forever tiles are some of the best tiles that can be used in the kitchen owing to their durability and other unique properties. They provide a strong and sturdy underfoot and have low moisture absorption that gives you safety and stability while cleaning.
Update Your Light Fixtures
Lighting is one of the most important factors while remodelling any area – especially an area like the kitchen. Proper lighting can help brighten up the space and the brighter the space, the bigger it looks. If your kitchen is well lit naturally, you can opt for fancy, but simple fixtures that'll add some more colour. But if your kitchen does not receive ample natural light, you may have to supplement with multiple sources of artificial lights to ensure appropriate brightness.
Personalise With Accessories
Even the smallest things go a long way. Magnets, wooden cutting boards, vase, fruit bowls, cutlery stands, are some of the things that can double up as accessories, making your kitchen look more personalised.
Opt For Stools
Instead of dedicating more than half the space for a grand dining set-up, you can use your kitchen island or counter as a makeshift dining table. Add some bar stools to the counter and you will be set for a quick informal meal!
Keep The Space Clean
Any space looks bigger when there's not much clutter. Keep your counters clutter-free, do not make a mess and frequently deep clean the space. There are more chances of flies and rodent infestation if the nooks and crannies are not cleaned often.
Style The Counters
Add a personal touch to the space by decorating the counters as per your taste. A fancy knife stand, some potpourri for a fragrant kitchen, counter lighting for a spotlight like effect and quirky table mats can be some of the things you can experiment with. Just remember the previous tip – no clutter!
Style A Wine Rack
Do you love wine? Have an enviable wine collection but do not have enough space to flaunt them? Fret not, you can create your very own mini wine cellar under your kitchen island by adding a custom wine rack. This blends seamlessly with most kitchen styles, especially a farmhouse kitchen, and can also be installed below cabinetry.
Upgrade Your Storage Solutions
If the existing storage options are not enough, you can and should add in some more. Floating shelves are a great way as they don't take up extra space, but make the best use of the space available. Standardise the storage across the kitchen, invest in jars and containers of a similar kind to run a uniform pattern across the space.
Give Your Backsplash A Makeover
Backsplashes are important and can be upped every so often. Choosing the right design and the right kind of tiles for the same makes all the difference. Give your kitchen backsplash a makeover and opt for some splash of colour or pattern by going the non-traditional way. Go for pops of colours like orange, mahogany, bright blue, mint green or plan subway tiles.
Your kitchen is your personal space, and you can remodel it the way you want to reflect your individual personality. Take this up as your passion project and incorporate these simple tips and tricks to infuse your personality into the space.