Implementing flexible desking without a desk booking process is one of the quickest ways to a managerial nightmare. You must look for ways to improve desk usage without restricting employee freedom. And you should ensure desk arrangements enhance communication and collaboration between your employees.
No doubt you could use manual processes for desk management. But they are inefficient because they need constant monitoring and updating.
A desk booking solution uses automation to streamline routine, manual desk booking practices. Employees can book desks of their choice and managers can monitor desk usage, and approve booking approvals, among a range of other things.
---
Still wondering if your workplace needs a desk booking solution? Here are five benefits of having one.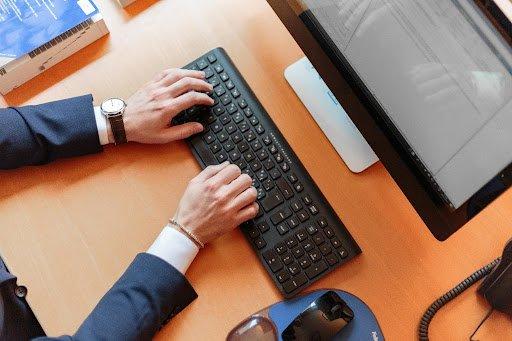 1. Makes Flexible Seating Easier
All kinds of hybrid workplaces, irrespective of their real estate and workforce size, can benefit from a desk booking solution. Depending on the company policy, you can use the software to implement:
Hot desking:Employees can claim a desk for their shift when they arrive in the office. The desks are assigned on a first-come, first-serve basis.
Hoteling:Employees can reserve their desks for a period in advance. The setup is more static as compared to hot desking.
Either way, with a desk booking solution, your employees will enjoy greater flexibility to choose where they work and how.
2. Improves Workplace Productivity
A flexible workplace is dynamic, and regular changes can distract employees from the task at hand. But desk booking solutions make a hybrid workplace more organized so workers can concentrate on their work.
Employees can choose to book their desks in advance from home or commute. So, when they reach the office, they can get straight to work instead of looking for desks. Even when they have to work on an unfamiliar desk, they can use interactive floor plans to navigate to the desk without disturbing others.
If your employees prefer desks with ergonomic chairs, dual monitors, or any other amenity, they can filter desks within the app and book the desk of their choice. Also, when employees need to collaborate on projects, they can quickly check where their colleagues are seated and book desks in close proximity.
3. Comply With Regulations
Hybrid workplaces have an added challenge for managers to enforce regulations in the wake of the pandemic. With a desk booking solution in place, managers do not need to physically move desks from one place to another to maintain physical distance. They can limit access to specific desks so employees cannot book them, making it easier for workers to maintain physical distancing.
Desk booking software also gives the sanitation team more time between bookings to thoroughly clean the desks after use. Every time an employee checks out of their desks after work, it shows on the floor plans in the software, so the sanitation team can immediately clean them and prepare them for the next booking.
4. Better Space Utilization
No matter the size of the workplace, a desk booking solution will help managers keep track of their space utilization. The software brings all vital insights to your fingertips, so no desk sits idle. Even if an employee does not get their desk of choice, the software helps them book a similar desk.
A desk booking solution has become more important for rapidly growing companies. The insights can help managers assess if they need to invest in more real estate or can easily accommodate a larger workforce by capping the occupancy or rotating the employees through hot-desking.
Although desk booking solutions are synonymous with autonomy over workspace choice, the software has an approval system in place. A supervisor must approve every booking, and if they feel a booking is not as per the space utilization strategy, they can change it.
5. Desk Booking Solution Saves Money
A desk booking solution is also a worthwhile investment for a hybrid workplace as it also helps in cost savings. It allows managers to implement desk-sharing and rotational shifts, increasing the office's employees to desk ratio.
Since you can accommodate more workforce in less space, you use less real estate. Also, you can keep track of occupancy rates in real-time, which helps you limit incidental expenses. As a result, you spend less on your workplace's maintenance in the long run.
Have you been thinking of reducing your office space? Managers can also use insights from desk booking solutions to remove the guesswork and reduce their office spaces to save money on leasing.
Wrapping Up
The desk booking solution allows employees to book their desks of choice to collaborate and be productive. At the same time, it allows supervisors to improve their space usage while maintaining a safe working environment.
WorkInSync desk booking system is a leading name in the space management category. It focuses on improving workplace experience. With features like desk hoteling, hot desk booking and contact tracing, your journey to hybrid work starts here.
Want to learn more about the product? Schedule a demo with us today.
FACEBOOK
TWITTER
INSTAGRAM
LINKEDIN

I'm so excited to tackle all my home improvement projects! From plumbing to DIY and cleaning - I'm ready to get down to work! #homerepair #homecleaning #plumbing #diy
---
---
---