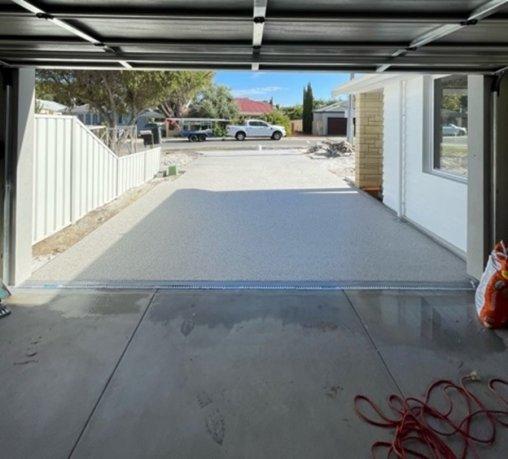 A driveway is one of the most practical and well-used parts of our home. And many of us have a driveway made of tarmac as it creates a firm, level surface that makes getting in and out of our homes a lot easier. Durable and low maintenance, it suits busy lifestyles.
However, harsh weather, changing ground conditions and time itself can cause issues. And this hard-wearing surface can develop bumps, cracks and even holes. So, what can you do to deal with these problems? Can you repair them? Let's take a closer look at tarmacked driveways to work out what can be repaired and how.
---
What can and can't be repaired
To know whether your tarmac driveway can be repaired, the first thing to look at is the cause and the size of the problem. This will help you decide what the best course of action is.
If there are lots of cracks and the surface is no longer even, it may be that the ground underneath has suffered a lot of movement. This can happen if the base isn't properly prepared or there's a lack of drainage. Some areas can appear to have sunk, which should give you a clue that this is the issue.
If you opt to fix this, it's unlikely to last very long. So, in this case, you may be best calling in the experts to redo the driveway. And in this instance, the price of a tarmac drive may need to include the removal of the existing tarmac and groundworks to better prepare the sub-base of the new one.
Another type of issue you may have is a long single crack. This can be caused by shrinkage if the tarmac mix or materials aren't right. If your driveway is new, call back the company who laid it and ask them to rectify it.
However, if your driveway has been in use for a while and only has a few small cracks with no obvious cause, it should be fixable. Equally, if your driveway has started to look faded with a slight pitted texture starting to appear, then it's likely you can remedy this too. So, let's take you through the different ways you can do that.
Ways to repair a tarmacked driveway
If your driveway has lost its color and rainwater doesn't run off it easily, then it could be time to reseal it. This is basically a way to give your driveway a new protective coat.
Alternatively, if you have a few pitted areas or cracks, you may be looking at filling those in. There are lots of different products to do this, from liquids for small defects to gravel-textured products to fill in larger areas.
There are a couple of ways to repair tarmacked driveways with larger cracks or holes. One involves using a pre-prepared substance that is laid down cold. The other is a mix that's laid down while it's hot. This hot mix is ideal for restoring larger areas, deep holes or resurfacing the whole of your driveway.
Professional or DIY repair
Many of us like to tackle home repairs ourselves. It saves money and gives us a sense of satisfaction. But is DIY the best route to take when fixing your driveway? Well, this depends very much on how big the repair is and how confident you feel.
For larger repairs, resurfacing and relaying, it's probably best to call in the experts to do it for you. It's a big job, so it may not be practical for you to tackle alone, and it's more likely to last if it's done professionally.
For smaller repairs, it's really down to how confident you feel to do them. Your local hardware or DIY store should have ready-mixed products for you to use. As with any job, it's important you follow the product instructions. For example, you may need to remove loose material first and clean off your drive before applying the repair compound.
Preventing the need for future repairs
Whether you fix your driveway yourself or hire a professional, you'll want to make sure it stays in good condition and the potential for future problems is minimized. And that means keeping on top of maintenance.
So, how do you do that? Firstly, resealing the tarmac every five years or so will protect the surface from the weather and daily wear. You can do this yourself or hire someone to do it for you.
Even if you keep the driveway sealed, do make sure to clean up oil spills as they can damage the surface. And seasonal cleaning is also a good idea. So, add this task to your seasonal maintenance checklist. A power washer is fine to use and does make this job easier but use a low pressure setting to avoid causing damage. Doing this should keep moss and algae from covering your driveway.
Finally, avoid planting trees and large shrubs in the ground close to the edge of your drive. They may grow roots underneath, causing new cracks and bumps to appear.
What to do when a repair isn't possible
Of course, you may still find yourself needing a new driveway at some point. So, what options do you have when a repair isn't possible?
Well, you could simply have a new tarmac driveway installed. This will give you the chance to upgrade drainage systems and widen or change the shape of your driveway. This is useful if you've recently become a two-car family. And tarmac can be applied in pretty much any shape and size without difficulty.
Or you may decide to use a different material to create your driveway. If you want the same flexibility over the shape and size, then you may decide on a concrete or resin version.
Should you fancy a different look altogether, you may wish to use block paving instead. This comes in various shades and materials which gives you the opportunity to add patterning to increase curb appeal. Or you may wish to keep costs down with a simple but effective gravel drive.
To wrap up
So, in conclusion, it is possible to repair a tarmac driveway. However, you do need to work out the cause and then decide on the best solution for the problem. This will then help you decide whether the repair should be done by yourself or a professional. And if all else fails, you can simply start again with a brand-new driveway.
FACEBOOK
TWITTER
INSTAGRAM
LINKEDIN

I'm so excited to tackle all my home improvement projects! From plumbing to DIY and cleaning - I'm ready to get down to work! #homerepair #homecleaning #plumbing #diy
---
---
---