Have you ever wondered why people move to new places? It's because their homes don't seem as clean and beautiful as they used to be.
If you are looking for the best ways to clean your house and remove any permanent stains, then you are on the right page!
Clean off the stains and make your house glittering clean, in just an hour or two! We have handpicked some of the most effective tips that will help you maintain your home's cleanliness and beauty.
---
Let's have a look at these six processes that will help you clean your house and remove different types of stains that have destroyed its beauty!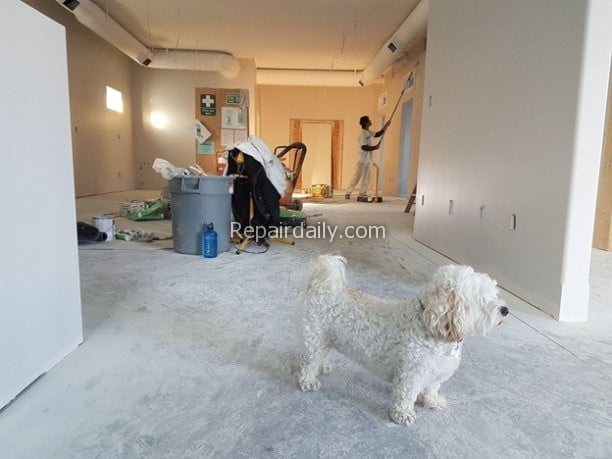 1. How to Remove Stains From Your Floor Tiles
If you have kids or pets, chances are your floor tiles have seen their fair share of spills and stains. While you might be able to clean up the mess right away, some stains remain.
In some cases, you might have to consider getting professional grout cleaning services. Less stubborn stains can be dealt with at home.
Try this D.I.Y process to get rid of those pesky stains for good!
Figure out what type of tile flooring you have.
Gather your supplies.
Use water and baking soda to make a paste out of these.
Use the paste to remove the stain. At first, apply the paste on that and wait for a few minutes
Use a brush or sponge to scrub the stain to eliminate it
Rinse the area with clean water.
Dry the area with a towel or mop.
2. How to Remove Urine Stains From Carpet
With growing children and pets, accidents are bound to happen. Chances are that you're going to have to deal with the occasional urine stain on your carpet as well.
You can buy some special cleaning products and services from Fabulously Clean, meridian id. At the end of the day, you might discover that those are not 100 percent effective.
Even though attaining 100 percent spotlessness is quite impossible, we have a few effective steps you can try to remove those stains quickly and easily!
Wipe the urine using a dry towel or thick cloth as much as possible
Make a sterling blend of vinegar and water in a 50:50 ratio and apply it to the stain
Let the vinegar solution sit for five minutes, then blot it up with another clean, dry towel.
Pour a small amount of hydrogen peroxide onto the stain and let it sit for one minute.
Blot up the hydrogen peroxide with yet another clean, dry towel.
3. How to Remove Odors
Eliminating odor is one of the primary tasks if you want to make your house more clean and appealing. It can sometimes be more challenging than cleaning the hardwood floors!
No matter how much you try to keep your house odor-free, the reality is that your house will smell if you allow your pets in your house. Since kids can also contribute, you have to be extra careful to get rid of unwanted smells.
Whether it's pet smells, or something else, there are a few steps you can take to remove the odor from your home.
Identify the source of the smell and clean the area thoroughly.
Try using an air purifier or diffuser with essential oils to help mask the odor.
Make sure to keep your house clean and tidy regularly to prevent odors from returning.
Follow these three tips and your house will be free from odors!
4. How to Wash Blinds Without Damage
Washing your blinds may seem like a daunting task, but it doesn't have to be! Some window cleaning companies also provide blind cleaning services. You can hire them if you don't want to deal is your blinds.
However, it is actually quite easy to clean your blinds without damaging them. Try the following steps to make your blinds squeaky clean.
Dust your blinds before washing them. This will help remove any dirt or debris that could potentially damage the blinds during the cleaning process.
Fill a sink or tub with lukewarm water and add a mild cleaning solution. Submerge the blinds in the water and let them soak for 10-15 minutes.
Gently scrub the blinds with a soft-bristled brush or sponge.
Rinse the blinds thoroughly with clean water.
If there are some stubborn stains that don't come out after cleaning, spray the area with vinegar and allow it to sit for 15 minutes before wiping away.
Repeat the same procedure to make sure the stains are completely gone
If they still won't come out after multiple attempts, call a professional cleaner who can use stronger solutions than what is available at home.
5. Removing Mildew From Bathroom Walls
If you have mildew growing on your bathroom walls, the first thing you need to do is remove the source of the moisture. Most likely, this is coming from your shower or bathtub.
Make sure you're bathroom is well-vented. If you have a hopper window but no vents, keep it open while you shower.
You should also make sure there are no clogs in your shower head and faucet. Once the humidity is gone, you can use hydrogen peroxide to kill any mold in your bathroom. Remember that a humidity-free bathroom will not attract mildew!
6. How To Remove Pet Hair From Carpet and Furniture
If you have pets, then you know that their hair can be a pain to clean up. The best way to remove pet hair from the carpet is to use a lint roller.
Simply roll the lint roller over the affected area and the hair will adhere to the roller. For more stubborn pet hair on your carpets, try using some type of moist agent before rolling it up with the hair attached.
For furniture or other surfaces with less than six inches of surface area, you can use a small amount of peanut butter as an adhesive for picking up any stubborn hairs.
For larger areas like rugs or large sofas, spray on some rug cleaner or furniture polish first before using your lint roller for removing any pet hair.
Remember to always keep your vacuums well maintained for removing all traces of pet fur from floors and furniture in your home!
Wrapping Up
A clean house always represents what type of personality you hold. If you keep your house clean, it will automatically make you feel good and proud. Moreover, it will also create a good impression on the guests who come to visit you.
We tried to share some cleaning tips with you that will help to convert your house into a new one! Apply these tips to keep your house spick and span!
Happy Cleaning!
FACEBOOK
TWITTER
INSTAGRAM
LINKEDIN

I'm so excited to tackle all my home improvement projects! From plumbing to DIY and cleaning - I'm ready to get down to work! #homerepair #homecleaning #plumbing #diy
---
---
---