Shades of white are still the most popular choice for kitchen cabinetry. Beyond the season's trends, white gives a safe, timeless, classic look that is guaranteed to remain attractive and current as the years roll by. White and its shades are versatile colours, and can be chosen to complement almost every style of kitchen, from rustic to modern, luxury to contemporary. As white reflects light, it automatically brightens the space and helps your kitchen look bigger and brighter than it might really be.
For these reasons, many people don't ever consider choosing dark kitchen cabinets. They could be overlooking the secret to a kitchen that looks fantastic! Whether you're considering giving your existing cabinets a fresh coat of paint, remodeling or completing a full kitchen renovation, we think you should give some serious thought to the advantages of painting it black.
Your cabinets comprise a huge portion of your kitchen's real estate, and your choice of style and colour will often dominate the aesthetic of the entire room. This makes the final selection of your cabinets a very important step in any planned remodeling or construction of your kitchen.
---
Dark kitchen cabinets can create a timeless feeling of luxury, and instead of creating the gloomy feeling that many might expect, often give the final room a warm and cozy feeling. Here are six reasons we think you should consider dark kitchen cabinets for your home.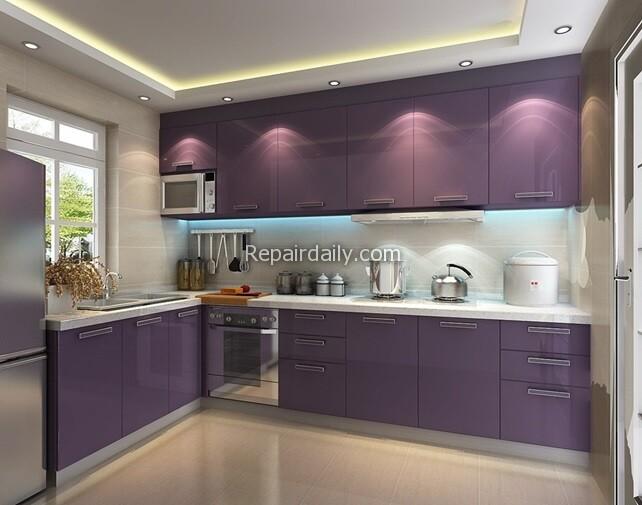 1) Create An Effortless Sense of Luxury
When you need to set your kitchen apart and lend it a refined, luxurious appearance, dark kitchen cabinets can be the perfect choice. The dark surfaces they create naturally give a feeling of depth and space to your kitchen, while still retaining a feeling of minimalist style and richness. This can be a great asset in a large kitchen. Picking luxurious hardwoods like mahogany can be a great choice for a truly majestic look, and dark cabinets are also better complemented by colorful metals like bronze than are white surfaces.
2) Super Cozy
When paired and accented properly with the rest of your kitchen styling, dark kitchens can create a snug, cozy feeling. Homeowners aiming for this look will carefully pick their lighting sources and position them to create a warm glow. To perfect this welcoming look, pick a glossy finish for your dark cabinets, and pay close attention to the choice of cabinet hardware.
3) Dark Cabinets Keep Their Secrets
Dark kitchen cabinets conceal wear and tear much better than lighter colours. If you make heavy use of your kitchen, darker colours and materials can be great choices. Spills, dents, and stains are plain as day on lighter surfaces, but are often concealed by dark ones. So if you're fearing scratches, messes, or bang-ups, you may want to come to the dark side.
For obvious reasons, this can also be a great benefit for homes with small children! Particularly if you have a lot of cabinets at ground level.
4) Ebony and Ivory
Dark kitchen cabinets can be used to striking effect when paired with cabinets in a lighter shade. For example, if your kitchen will include cabinets at both foot and eye-level, choosing a lighter cabinet up top and a darker shade down below can create a striking yet harmonious look.
Better yet, you can enjoy the benefits of white cabinets where they are unlikely to be dented or stained, and the resilience of dark cabinets in the danger zone!
5) Large Kitchens
If your kitchen is on the larger side, an abundance of materials like stainless or glass can create a sterile or cold look.. especially when paired with extensive white cabinetry. In this case, dark kitchen cabinets can be a great choice to make the space feel smaller and more intimate. You'll retain the minimalist style, but the darker shades will give the space some warmth and grounding.
6) Variety
Once you've committed to a dark shade, you have access to a wide variety of different materials to complete your vision. Besides classic black cabinets, you have access to all of the darker woods (like walnut or mahogany) in a variety of different stains. More exotic looks can include dark greens, purples, reds, or more. In the right kitchen, a deep emerald or rich red can make for an exciting statement. Lastly, you always have the choice between a matte or glossy finish to complete your design.
7) Unique Choice
While it can't be denied that dark kitchen cabinets are a statement, they are a classic one that will look great for years to come. When it comes to designing a kitchen that is really your own, and creating a unique look, coming over to the dark side can pay real dividends and create a space that looks great for years to come.
We hope this article gave you some food for thought – consider doing something different the next time you refresh your kitchen, and come to the dark side!