Your outdoor space is an essential part of your home, though often, homeowners neglect it unless it's time to sell the house. Since they need to improve their curb appeal, that's the only time they will pay more attention to their outdoor space.
But recently, improving outdoor spaces to help with the family's general wellness is fast becoming a trend. With the orders to stay home, people are getting bored and lonely, so going outside on their porches and getting one with nature has helped combat sadness for many people.
It has been known that spending time outside improves a person's mental and physical state. And having an inviting, beautiful, and serene outdoor space will encourage family members to spend more time outside, get involved with family activities, and soak up the sun. As a result, the family can gain many great health benefits.
---
You may purchase items to make your outdoor space achieve the look you want, but you may also DIY them to make it more personal as you add your personal touches to the task. But if you don't have the time to do all these things, you may seek the help of landscaping consultants like Bend Pine Nursery. They offer exemplary landscaping services to help make your outdoor living space look welcoming and lovely. Suppose you have the luxury of time, try to create these fantastic DIY landscaping ideas to improve your outdoor space:

1. Add A Welcoming Walkway
A walkway or a garden path will be a lovely addition to your outdoor space and a functional trail that would be handy, especially if you have extensive land. The route may travel from your fence to your front door and guide your guests. This way, they don't wander somewhere else when you hold parties in your home.
You may choose a variety of materials that would suit your budget and style preference. It's important to remember to lay down fill material like crushed gravel, limestone, or pea rock atop the soil. You may also choose artificial or natural grass as a foundation for your path.
After laying down your preferred foundation, you may use slabs of yard stone to lead the path. Ideally, a sized 18-inch width and 2-inch thickness of yard stone would be best. Before laying the stones, measure them from end to end with about 20 inches of distance from each other.
Trace the shape of the slab on the surface and use a spade to dig the grass or soil where you will place the stone. Spread about an inch of sand on top so the surface will be even before you set the slab of yard stone. Put a heavy weight on top of the slab so it could set well and ensure that it's not rocking to prevent people from tripping on it inadvertently.
2. Arrange Your Plants And Flowers In Layers
Instead of the usual straight line of plants that could be boring, try to use plants with different heights and arrange them so that there is an illusion of layers from afar. You may do this by using a variety of pots of different shapes and sizes and planter boxes.
Landscape layering begins with placing the shortest of plants in the foreground and adding the rest in a staggering manner. When you find it challenging to visualize this idea, you may refer to a landscape layering guide to help you. The guide illustrates that at the bottom, you use bulbs, herbs, and annuals; follow it up with vines and groundcovers.
On the third layer, add various plants, flowers, and grasses. And since this is the center of your pyramid, you might want to highlight your favorite flowers here, like roses or carnations. You may use deciduous shrubs like hydrangeas or the gold mound spirea on the fourth layer. Deciduous shrubs are plants that lose their foliage in the fall but grow again in the spring; their height is perfect in landscape layering.
On the next layer, you may add evergreen shrubs like boxwood and azalea. These plants thrive in any season, thus the name, and will make your landscape look pretty even during the winter. The last layer should be the ornamental trees. Since this is the tallest of the bunch, it will create a dramatic look to your space, and your landscape will have depth and an impressive vista.
3. Set Up A DIY Water Fountain
A water fountain in your garden can add an extra character to your space and make it more relaxing. A bubbling or gurgling water fountain can also help block out the outside noise and create a serene atmosphere for your outdoor space. Completing this will be easy, so don't even bother buying expensive ones. Follow any DIY video guide on YouTube, and you're good to go.
4. Light Up Your Outdoor Space
You might want your outdoor space at night to look as magical and inviting as they are during the day. The trick is to add lights to them. You may use spotlights on your favorite plants, illuminate your pathway, or use LED lanterns to titivate your yard. Additionally, you may use fairy lights to light up the more significant trees in your yard and create an ethereal illusion that your kids would love.
Using stylized lighting will make a statement about how you value your home and make it a more enjoyable place to live in. Your family will be delighted to do outdoor activities at night and have plenty of incredible memories of these while your children are growing up.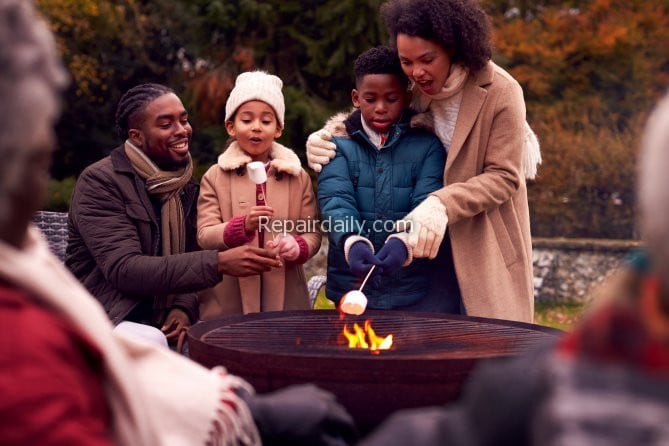 5. Create A Fire Pit
Spending less than USD$200 for materials to make your fire pit isn't so bad. More so if this fantastic addition to your outdoor space will be the key to making astounding memories with family and friends. Summer nights roasting marshmallows under the starry skies with your family while telling beautiful memories is one memorable summer your kids will surely remember.
Using simple materials like bricks, pavers, and concrete and following a few basic instructions will allow you to finish your fire pit. Add a few white garden chairs around it and your night of roasting smores is ready.
6. Make A Trellis Wall
If you have climbing veggies and crawling flowers in your garden, giving them a wall to climb on will make your landscape look pretty and more elaborate. A trellis wall will also improve your privacy since it can be a barrier between your house and the next. Your climbing sweet pea or star jasmine will enjoy growing on your trellis, and soon, it will add a splash of color to your outdoor space.
Conclusion
Creating a beautiful outdoor space will not just impress others but also give you immense satisfaction, especially if you know that you have poured your heart and soul into it. An inviting outdoor space with well-thought-out landscaping can increase your home's curb appeal, give your family more reason to spend time outside, and improve your mental and physical wellness.
FACEBOOK
TWITTER
INSTAGRAM
LINKEDIN

I'm so excited to tackle all my home improvement projects! From plumbing to DIY and cleaning - I'm ready to get down to work! #homerepair #homecleaning #plumbing #diy
---
---
---