Moving to a new home can be an exciting and fulfilling experience. At the same time, it can also be stressful and overwhelming. Moving requires much time, effort, and patience, from decluttering and packing to coordinating with moving companies and settling into a new neighborhood.
However, with the right strategies and mindset, you can make your move as smooth and stress-free as possible.
Many people every year move from San Diego to Phoenix. There are several reasons for this relocation. The affordable living costs, warm climate, job opportunities, and cultural attractions make Phoenix a popular destination for those considering a move from San Diego.
---
While there are many benefits of relocating, there are also some challenges individuals may face during the move. One of the primary challenges is the distance between the two cities. San Diego and Phoenix are approximately 360 miles apart, which means extensive traveling times.
This can be time-consuming and costly, particularly if you have a lot of stuff you want to take along.
Need help? You're at the right place. This article will share some tips and tricks for a stress-free move. So, let's explore some of the best ways to make your move a positive and enjoyable experience.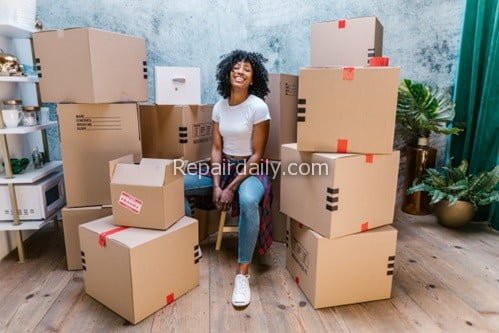 1. Plan Ahead for a Smooth Move.
Planning is crucial for a smooth and stress-free experience when relocating from San Diego to Phoenix. Start planning as early as possible and create a detailed moving checklist with all the tasks to complete before moving day.
Research your new neighborhood and gather information about schools, healthcare providers, and other essential services to make the transition smoother. Communication is also vital – coordinate with your movers or truck rental company in advance to avoid any last-minute surprises.
By planning ahead, you can reduce stress and ensure that your move goes as smoothly as possible.
2. Declutter and Organize Your Belongings.
Before packing for your move, take some time to declutter and organize your belongings. It is an excellent opportunity to eliminate any items you no longer need or use, making the packing and moving process much more straightforward.
Go through each room in your home and sort your belongings into categories such as keep, donate, or sell. This will help you identify what you want to take to your new home and what you can eliminate. Once you have decluttered, organize your remaining items by packing them in clearly labeled boxes or bins.
This will make it easier to unpack and settle into your new home.
3. Hire Professional Movers
Hiring professional movers is an excellent suggestion to make your move as stress-free as possible. Professional movers have the experience, equipment, and manpower to make your move faster and more efficient.
They can also help you avoid common moving pitfalls and ensure your belongings are transported safely and securely. Before hiring a moving company, research and compare different options, ask for references, and get a written estimate that includes all costs and fees.
With the right professionals, you can sit back, relax, and let the experts handle the heavy lifting.
4. Pack Smartly and Label Everything.
When packing for a move, it's essential to be strategic and organized. This means packing smartly and labeling everything. Start by filling in items you only need after the move, such as off-season clothing or rarely used kitchen gadgets.
Use sturdy boxes and packing materials to protect fragile objects. Label each box clearly with its contents and destination room.
This will make it easier to unpack and find what you need in your new home. Packing smartly and labeling everything clearly can make your move more organized and less stressful.
5. Take Care of Yourself During the Moving Process.
Moving can be physically and emotionally exhausting, so taking care of yourself during the process is essential. Ensure you get enough sleep, eat healthy foods, and stay hydrated. Take breaks when necessary, and don't push yourself too hard.
Taking care of your mental health during the move is equally important. Moving can be stressful and overwhelming, so take time for self-care activities like exercise, meditation, or spending time with loved ones.
6. Communicate with Your New Neighbors and Utilities Providers.
Communicating with your new neighbors and utilities providers before moving day can make the transition to your new home much smoother. Introduce yourself to your new neighbors, ask questions, and get to know the community.
This can help you feel more comfortable in your new surroundings and make new connections. Also, contact your utility providers, such as internet, electricity, and water companies, to set up your accounts and ensure everything is ready for your move-in day.
7. Unpack and Settle into Your New Home Gradually.
When you first move into a new home, it can be tempting to unpack everything immediately and settle in quickly. However, this can soon become overwhelming and stressful. Instead, try to unpack and settle into your new home gradually.
Focus on unloading and setting up essentials like bed, kitchen, and bathroom. From there, you can work progressively on unpacking the rest of your belongings and decorating your new space. By taking your time and not rushing the process, you can ensure that you are setting up your new home comfortably and functionally for yourself and your family.
8. Stay Positive and Focus on the Benefits of Your New Home.
Moving to a new home can be a rollercoaster of emotions, from excitement and anticipation to stress and anxiety. During this transition, staying positive and focused can be helpful. Consider everything you'll love about your new neighborhood, like nearby parks, restaurants, or entertainment options.
Visualize yourself settling into your new space and creating new memories. While feeling sad about leaving your old home is natural, try to view this as an opportunity to start fresh and create new experiences.
Conclusion
Moving can be a challenging experience, but it can be rewarding with some planning, organization, and patience.
Whether moving across the country or just down the street, following the tips highlighted in this article can help simplify the process and reduce stress. Remember to take care of yourself throughout the move, and don't be afraid to ask for help when needed.
With the right mindset and preparation, you can make your move a positive and enjoyable experience that sets you up for a happy and prosperous future in your new home.
FACEBOOK
TWITTER
INSTAGRAM
LINKEDIN

I'm so excited to tackle all my home improvement projects! From plumbing to DIY and cleaning - I'm ready to get down to work! #homerepair #homecleaning #plumbing #diy
---
---
---