Do you have a large patio area but do not know how to start decorating and styling it? Using outdoor rugs might be your answer. Usually, homeowners tend to have trouble when deciding on how to decorate their outdoor areas regardless if it is a terrace, balcony, garden, or patio. Some of the tough decisions involve choosing between a pergola or a gazebo, an outdoor dining table, or a seating area.
To make the design and decorating process a little easier, we will show you a few tricks about rugs. This article will provide a few ideas on how to make your patio cozier and more comfortable using outdoor rugs.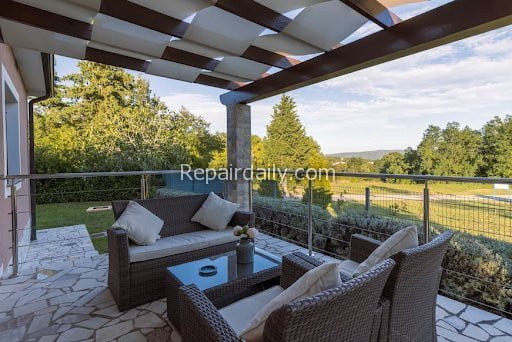 ---
Choosing The Perfect Outdoor Rug 
There are so many different types and styles of rugs on the market, such as a villa carpet or aloha rugs. Each type of rug has its own set of unique and useful features. Any homeowner will tell you that choosing a rug, regardless of what it is for, is one of the toughest decisions.
For a patio area, villa carpets are best suited. These carpets are made from polypropylene. This type of hard plastic is extremely durable and is known as the "steel of the plastics industry." As such, it is the perfect outdoor rug as it will last a long time and withstand any weather. In addition to durability, polypropylene carpets are stain-resistant, easy to clean, and the color will not wear out over time.
Now that we know what type of carpet can be used in patio areas let us look at how we can decorate using them. 
Introducing A Vibrant And Inviting Feel To Your Patio Area
Including outdoor rugs as part of your décor will introduce a modern and chic feel to your patio. Generally, these rugs have different colors and geometric patterns giving the area an inviting and energetic atmosphere. However, when decorating, it is best to ensure that the patterns and colors of the outdoor rug will match and complement the overall theme of the patio. 
When shopping for an outdoor rug, the color and pattern will be based on the color of your furniture and other elements of your patio. For example, if your patio has a light gray wooden deck, then you can choose a bright-colored rug that will create a break in the décor. Alternatively, neutral-colored rugs such as beige will work well if you are aiming for a modern look. 
Choosing A Theme For The Patio Area
Generally, a patio area is directly connected to a room in your home. As such, the theme and color choice of the patio will largely depend on the theme of the room that it is connected. Having the same theme between these two areas will create a flow and create a sense of harmony. For instance, if the connecting room has a dark brown and red undertone, then this color should also be used on the patio. The outdoor rug can be the same shade or color as the walls or curtains of the room. 
Alternatively, if you want your patio area to look completely different from the inside of your home, you can decorate it so that it matches a hobby or an activity. For example, if you intend to entertain guests often, your patio should be designed for comfort. This can include having comfortable and cushioned outdoor chairs, a large patio umbrella, a grilling area, and a small outdoor kitchen area.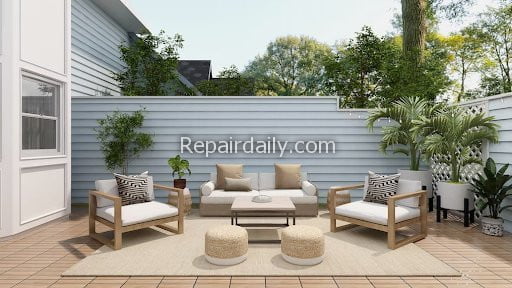 How To Use Outdoor Rugs To Define Spaces
Usually, a patio area is a large outdoor space that can be broken into sections such as a seating area and a cooking area. A design technique that you can use to separate these sections is use rugs. In this case, the outdoor rug should only be placed in the sections with outdoor furniture on the patio. 
If the seating area includes a set of couches, then the rug should be large and placed in the center, surrounded by the couch. The rug will become the focal point of the seating area. In this instance, the couch should not be placed on the rug. As far as possible, make sure that the couch does not touch the rug, or only the front of the couch sits on the rug, as shown below. 
If your patio has an outdoor dining table, then the table and chairs should be placed on the rug. In this instance, it is best to use a large area rug. In addition, the back legs of the chairs should be placed just within the edges of the carpet. Using rugs in these ways will help you separate the different sections of your patio area. 
Using Plants and Other Accessories to Create an Inviting Patio Area
Aside from furniture and outdoor rugs, there are many other decorative pieces that you can use to make your patio area cosy and comfortable. One way to achieve this is to use pot plants. Using two or three pot plants around your patio area will introduce calming and tranquil energy. This will add to the relaxing vibe you want to create and allows you to be comfortable and at ease. 
One way that you can use plants to decorate a patio area is to place a large pot plant on a small outdoor rug in the outdoor living area. In this way, the pot plant can take the place of a small side pedestal. Alternatively, you can place a few small pot plants along a wall in your patio area. 
Designing A Cosy And Comfortable Patio Area 
A patio area is one of the busiest areas of any home. It can be used to entertain visitors, host parties, and, in some cases, as a home office. It is important that your patio area is designed in a way that exudes comfort and luxury. In this article, we have highlighted a few ways that you can use to make your patio area cozy and relaxing.