Everyone needs a bathroom that offers tranquility, and a perfect space to refresh as you clean up. Add some footprints to this most personal space in your home by getting branded towels and your favorite lotion. You can turn your bathroom into a mini spa-like retreat with a minimal budget. 
Depending on your budget, the size of your bathroom, and the scope of work, you can opt to remodel your space at once or do it in bits. Determine the real costs of creating a luxurious bathroom by engaging a plumbing repair services contractor to audit and fix any leakages, then incorporate some simple elements into your space. 
Below are tips to transform your bathroom by adding more luxe. 
---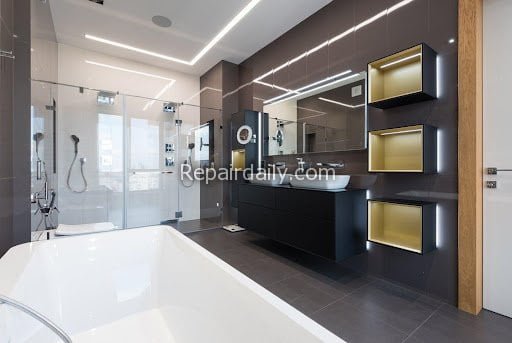 Check the Lights
Spas have soft, soothing lighting that is easy on the eyes. You can capture the relaxing spa ambiance right into your bathroom by installing a dimmer that will allow you to adjust the brightness to suit your needs and moods. Turn the light downlights whenever you wish to create a serene atmosphere. Strategically placing luxury bathroom lighting next to the vanity mirror adds a tranquil and inviting scheme to your space. 
Get pretty candles that create a nice glow and fill up your bathroom with a pleasing scent. You can invest in stunning candle holders that complement the interior and make part of your decor.  
Also, consider adding indoor plants to create a relaxing atmosphere in the bathroom that offers respite and a sense of sanctuary. 
Underfloor Heating
Who wants the sudden sensation of a warm, refreshing bath to step on a hard cold floor? Investing in under-floor heating transforms your space from a normal bathroom into a luxurious one. 
Though this is best when included from scratch when remodeling or building the bathroom, you can still fit it when there is a need. 
Bring in Scents
Making your bathroom smell beautiful has a big effect on bringing the spa feeling into your home. As mentioned above, candles are great sources of soothing scents and glow. 
You can also opt for aromatherapy if you wish. Consider purchasing reed sticks or an oil diffuser and bask in the many benefits of natural oils. 
Consider Minimalistic Look
Less is more, and nothing puts that into context like a minimalistic bathroom. Choosing a minimalistic bathroom accentuates other elements. Combining concrete finishes and hardwood creates a soothing and luxe feel. Add statement freestanding and industrial-style fittings to complete the look. 
Invest in Window Treatments
While blinds are wrong, shutters make your room more elegant. You may want to consider them a window treatment for ultimate privacy and make a design statement. 
The Mirror Effect
Use the mirror effect to create an illusion of a bigger space than the actual footage and makes your bathroom brighter. Nothing enhances the luxe feel of your bathroom more than a super-sized mirror. Pick the right position and ensure it reflects a freestanding bath or statement lighting. 
Stylish Double Sink
You will notice luxurious double sinks in most state-of-the-art hotel suites. Consider bringing beauty into your space by adding double sinks, especially to a bathroom shared by a couple. 
You will love the final look if you can complement the wood and marble with some dark fixtures. 
Conclusion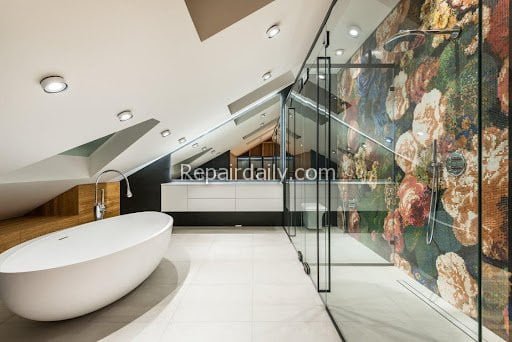 Color is a game changer, and picking the right one will give you the much-needed luxury vibe. Ensure you go for something grown-up. If you love pink, consider a blush pink, then combine it with natural materials like marble and wood. 
Hues like gray, white, and black have turned many ordinary spaces into dream bathrooms that leave you with a spa-like feeling.