Moving into your first home? Don't move in before you inspect the flooring! You could be moving into an expensive nightmare if you don't perform some quick repairs before your moving day. all the money that you had saved by investing in the best moving companies can be wasted if you fail to check the flooring first.
Nevertheless, check out this list of tips on how to repair the flooring before moving into your new home and save yourself some time and money in the long run!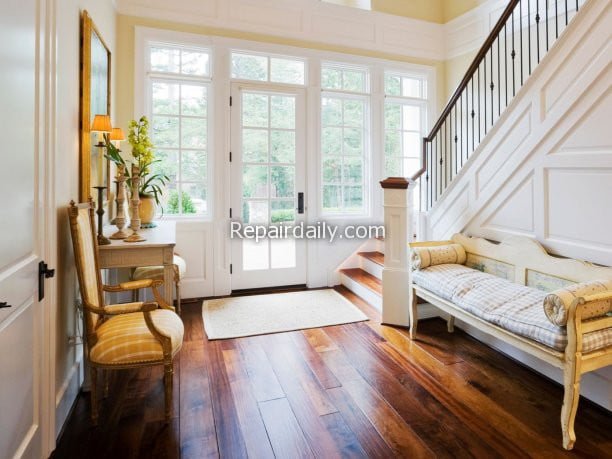 ---
After The Move-In Checklist
The first thing you should do after you move into your new home is to check the floors. Make sure that there are no cracks or holes in the floor. If there are, you should repair them as soon as possible. You should also clean the floors and vacuum them regularly to prevent dirt and dust from accumulating.
Use a sealant on wood floors if they're not sealed already. Use an industrial-strength cleaner on carpets if they have stains or pet odors.  Don't forget to buy rugs for inside doors and outside doors to keep dirt from entering the house.
There's nothing worse than having your brand-new carpet ruined by a dirty shoe because you didn't take the time to put down a rug.
How To Prepare the Floors
If you're planning on redoing your floors before you move into your new home, there are a few things you'll need to do to prepare. First, you'll need to remove any existing flooring. Next, you'll need to clean and prep the subfloor. Once the subfloor is ready, you can install your new flooring. Finally, once your new floors are installed, be sure to protect them by sealing them with a sealant.
How To Choose the Right Material
There are many different types of flooring on the market, so it's important to do your research and select the option that will best suit your needs. Here are some things to consider when selecting new flooring:
What type of home? What kind of floors? Do you have any allergies or sensitivities? How much does the product cost? Where can I buy it? Is there anything else I should know about this material? What is your budget for this project?
Depending on the answers you can easily choose your investment and move forward to the next step
How To Do the Patchwork
First, remove all of the loose material from around the hole or crack that needs to be patched. Then, using your hand trowel, work some thin-set mortar into the hole so that it is flush with its surroundings. Next, smooth out the mortar using your trowel and allow it to dry for at least 24 hours before walking on it again.
If you notice other areas where there are gaps between tiles, fill them in with cement adhesive and then use the same process as before to smooth out the mortar. If you're patching a larger area, make sure to use enough cement adhesive to fill any gaps – this will help give more support when you lay down new tiles.
How To Estimate the Budget for Repairs
It's always a good idea to get an estimate of the repairs needed before making an offer on a home. Here's how to go about getting an accurate estimate:
Determine the scope of work – make a list of all the repairs that need to be made.
Get at least three estimates from reputable contractors.
Ask each contractor for a breakdown of materials and labor costs.
Compare the estimates and choose the contractor you feel most comfortable with.
What If You Don't Have Enough Time?
If you don't have time to repair your flooring before you move in, there are a few things you can do to make sure it's protected. Take inventory of what needs to be fixed and make a list. Then, prioritize the repairs that need to be made. For example, if there are cracks in the foundation, those should be repaired first.
If there are holes in the walls, those can be patched up after you move in. When you're making the list, add any items that need to be replaced or fixed as well. Once you have a plan for how much work is needed on your home before moving in, start contacting contractors and asking for quotes on how much it will cost to get these jobs done. Depending you can schedule their visit to get the work done.