If you spend a lot of time in the kitchen, a smart kitchen may be a good investment for you. Even if you don't have or want a "smart home" improving the design of your kitchen can help to make your life easier and your living space more enjoyable.
Here we look at what a smart kitchen is, some of the innovative ideas now available, and some things to bear in mind if you decide this concept might be for you.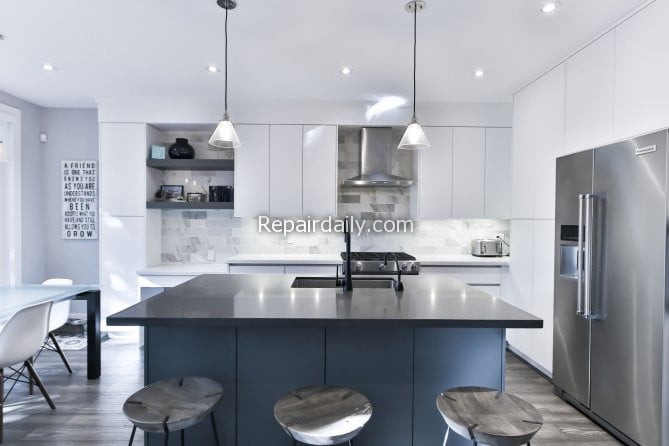 ---
WHAT IS A SMART KITCHEN
Most people are familiar with the term "smart home" which refers to a house or apartment controlled by a range of technological innovations, usually from an app on your phone. 
 A smart kitchen is a smaller version of a smart home that combines energy-saving, time-saving, and space-saving design ideas with the latest technological advances.
While this kind of kitchen might not be for everyone and some people would prefer to stick to a traditional kitchen, for those who lead busy lives and don't have the time or inclination to spend hours in the kitchen, it can be a real lifesaver.  A smart kitchen can be as smart or dumb as you want it to be, incorporating as many or as few of the current innovations as you like.
SMART KITCHEN TECHNOLOGY
So what are these innovations and how do they work?  Here are some of the more popular ones currently available.
Smart Refrigerator – Today's smart fridges come in a variety of types. There are those that can show you the contents of your fridge without opening the door and suggest recipe ideas based on what's available inside.  Others can provide internet recipes displayed on a screen on the door to help you be more creative in the kitchen. And still, others can provide you with a list of needed items via an app while you are grocery shopping. 

Smart Oven – As with refrigerators, smart ovens are able to provide a variety of online information such as recipes or cooking videos to inspire your creativity.  They can also advise you on the progress of meals being prepared in the oven without you having to open the door.

Smart Dishwasher – Today's smart dishwasher is capable of performing a number of tasks.  Not only does it thoroughly clean your dishes, but it will start upon voice activation and open the door when the task is completed.  It also uses minimum water and energy, which is important for reducing your household's carbon footprint.

Smart Lights – Lighting is very important in the kitchen, particularly in preparation areas.  Smart lights can be either voice-activated or controlled via an app on your phone.  They are energy efficient and can be programmed to turn off when not in use.  And if your kitchen is also your eating area, they can provide whatever level of mood lighting you desire, from an intimate dinner for two to a large family gathering.

Smart faucets – Another aspect of a smart kitchen is smart taps.  These can be voice-activated, allowing you to request anything from a cupful to a sink full of water at the desired temperature and letting you turn them on and off without touching them when your hands are otherwise occupied.   Remember, if you are upgrading your kitchen yourself, plumbing installations should always be left to a qualified professional using

quality products

.
SMART DESIGN IDEAS
As well as all of the latest technological gadgets, a smart kitchen is also about smart design.  Think about energy efficiency, smooth lines, and clutter-free spaces when designing your smart kitchen.  Some smart kitchen design ideas include:
Multi-function Islands – Dining in the kitchen is now the preferred option in many households and the kitchen island is the ideal multi-functional piece.  As well as a work surface for preparation, seating can be incorporated into its design along with hidden storage, cook-tops, sinks and even charging stations. 
Discreet storage – As opposed to open shelving, which was once the preferred storage option, a smart kitchen is designed to conceal kitchen items and present smooth and uncluttered surfaces.  As with shelving, cabinetry can also be designed with discretion in mind.  Hardware-free, soft-closing cupboards and drawers are also a feature of smart kitchen design.
Modern colour palette – Rather than the dark paneled kitchens of the past, a modern smart kitchen uses light tones and reflective surfaces such as chrome and stainless steel to create a feeling of space, light, and cleanliness.
 SMART KITCHEN TIPS
Whether you choose to incorporate a little or a lot of smart ideas into your kitchen, the following are tips to keep in mind.
Stick to one brand  
With more and more manufacturers entering the smart technology arena, it's a good idea to stick with one brand for all of your kitchen appliances.  This will ensure more seamless interaction, fewer apps, and familiar voice commands.
Beef up your WiFi
If you plan to run a number of smart kitchen appliances, your internet connection will need to be fast, robust, and secure.  If you're currently using the cheapest plan available, you might need to upgrade your level of access, your WiFi system, and even your service provider if necessary.
Buy a smart speaker
It's a good idea to purchase a dedicated smart speaker for the kitchen, as most smart appliances offer voice-activated support allowing you to run your kitchen hands-free with simple voice commands.
Be selective
Not all technology might be for you.  You might prefer to use grandma's recipe book instead of recipes online.  Just choose the smart kitchen appliances that make your life easier and don't conflict with your enjoyment of spending quality time in the kitchen.
While some of the larger kitchen appliances such as fridges and ovens can be quite expensive, many smaller smart appliances are now quite affordable and kitchen upgrades can be highly cost-effective.  And if employing a designer is not an option, there are now lots of modern kitchen kits featuring great smart design ideas available to the DIY'er.
Smart kitchens can be stylish, efficient, and highly convenient.  And if you decide to invest in one, you may find that you not only save time but might actually enjoy the process of cooking even more.
FACEBOOK
TWITTER
INSTAGRAM
LINKEDIN

I'm so excited to tackle all my home improvement projects! From plumbing to DIY and cleaning - I'm ready to get down to work! #homerepair #homecleaning #plumbing #diy
---
---
---