Have you ever clicked "Place Order" on your favorite e-commerce site and wondered how that package magically appears at your doorstep so quickly? Well, it's not magic; it's the result of a well-oiled process known as order fulfillment. 
To help you understand, we'll dive into the world of order fulfillment in warehouses and how speed plays a crucial role in ensuring customer satisfaction.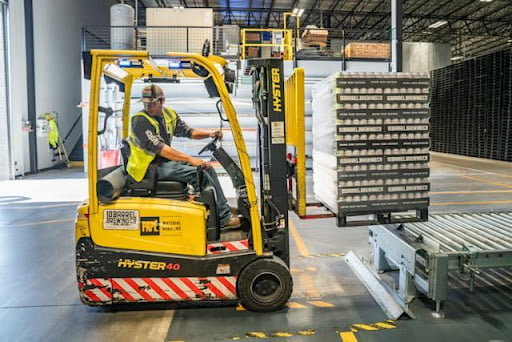 The Art of Order Fulfillment
Order fulfillment is the process of receiving, processing, and shipping customer orders. It's the backbone of e-commerce and retail, ensuring that products reach customers accurately, on time, and in excellent condition. 
This process can involve multiple steps within a warehouse or distribution center, and the faster and more accurately it's done, the happier customers tend to be.
Process Speed
In today's fast-paced world, customers expect quick delivery. Whether it's a new gadget, clothing, or groceries, we're accustomed to near-instant gratification. And that's where speed in order fulfillment comes into play. Here's why it's crucial:
Competitive Advantage
In the e-commerce world, the race is on to deliver products faster than your competitors. Speed can set your brand apart and win over customers.
Customer Satisfaction
Fast order fulfillment translates to happy customers. When products arrive on time or even earlier than expected, it leaves a positive impression.
Repeat Business
Satisfied customers are more likely to return for future purchases. They become loyal to brands that consistently meet their expectations.
Reduces Abandoned Carts
One of the primary reasons for cart abandonment in online shopping is long delivery times. Speedy order fulfillment can help reduce this problem.
Efficiency is the Key
Efficient order fulfillment is a well-choreographed dance within a warehouse. It involves several key components, including:
Inventory Management
To fulfill orders quickly, warehouses must have accurate inventory data. Real-time updates ensure that products are in stock and ready to be picked.
Picking and Packing
These are the heartbeats of order fulfillment. Skilled warehouse workers, guided by efficient processes, locate, pick, and pack products with precision and speed. You can explore material handling solutions in Australia. 
Sorting and Shipping
Once orders are packed, they must be sorted and dispatched through the right shipping channel. Whether it's standard shipping, express, or same-day delivery, the right process ensures that products reach customers on time.
Technology
The use of technology, such as barcode scanners and warehouse management systems, plays a pivotal role in speeding up the order fulfillment process. It ensures accurate picking and efficient tracking.
Same-Day and Next-Day Delivery
The need for speed has given rise to same-day and next-day delivery services. This trend is becoming increasingly common in the e-commerce world, and it's reshaping customer expectations. 
Warehouses are under pressure to fulfill orders within hours, and this requires a high level of efficiency and optimization.
Future of Order Fulfillment
The future of order fulfillment is all about automation and innovation. Warehouses are increasingly turning to robotics, artificial intelligence, and machine learning to optimize their processes. 
Drones and autonomous vehicles may soon become common sights in the world of last-mile delivery, making it faster and more efficient.
FACEBOOK
TWITTER
INSTAGRAM
LINKEDIN
---

I'm so excited to tackle all my home improvement projects! From plumbing to DIY and cleaning - I'm ready to get down to work! #homerepair #homecleaning #plumbing #diy #fixerupper #realestate #renovation #interiordesign #farmhouse #diy #homedecor #hgtv #home #farmhousedecor #modernfarmhouse #farmhousestyle #fixerupperstyle #fixandflip #homerenovation #realestateinvesting #beforeandafter #homesweethome #remodel #realestateinvestor #interior #realtor #joannagaines #flippinghouses #countryliving #design #homedesign #farmhouseinspired #investmentproperty #bhghome #renovationproject #farmhousekitchen #homeimprovement #farmhouseliving #cottagestyle #decor #realestateagent #magnoliahome #homeinspo #magnoliamarket #kitchendesign #dreamhome #shiplap #construction #houseflipping #investor #farmhousedesign #architecture #farmhousechic #homereno #rusticdecor #reno #kitchenremodel #webuyhouses #magnoliatable #rentalproperty #fixerupperinspired #newhome #interiors #homeremodel
---