30 Best Roku Free Channels And Where To Get all Free Channels In Roku
We are not talking about repair Roku device 🙂 though our site says repair daily!
If you've any Roku device, you don't necessarily need to spend money on any paid services because there are many free Roku channels available from app that you can install using Roku device with popular movies, live channels, TV shows and more.
What's free on Roku Channel?
The Roku channels free list offers something for everyone, too. It starts with the Roku Channel itself, which streams free movies and TV shows from the past.
---
Roku Channel
Tubi
Crackle
Pluto TV
Xumo
Haystack Local & World News
Fawesome
Vevo
HappyKids
Cooking Guide TV
Peacock TV
Popcornflix
PrendeTV: FREE TV In Spanish
Comet TV
RWeatherNation
KidoodleTV – Safe Streaming
TED
Plex TV
FilmRise
Newsy
ChefsFeed
NewsON
The CW
IMDb TV
Redbox
Crunchyroll
PBS & PBS Kids
Funimation
Nosey
CBS Sports Stream & Watch Live
Continue below to find out more about the best free Roku channels and how to find them.
Top 30 Free Roku Channels to Watch
There are lots of popular free channels on Roku, and although that's great, it can take a while to browse through the whole library. Plus, the "top free movies & TV" genre lists only the top free channels, so you'll need to do some digging using Roku's search function to find others.
To give you a helping hand, we'll list the best free Roku channels here, in no particular order, starting off with Roku's own offering, The Roku Channel.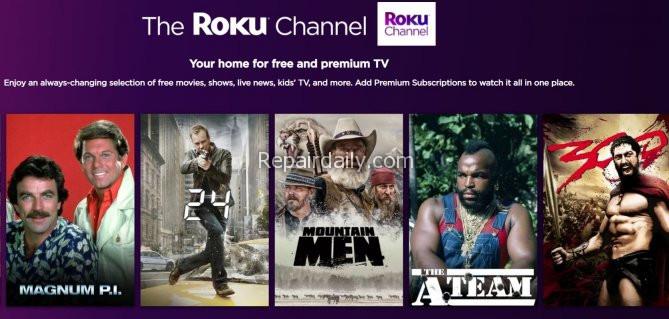 It's capable of entertaining the whole family and has a similar layout like Netflix. You can purchase premium content, but it's not required. According to official Roku site – "The Roku Channel is your home for free TV, Roku Originals and premium entertainment. Watch an ever-changing selection of original series, hit movies, TV shows, 24/7 live news (in U.S. and Canada only) and popular kids' entertainment —all totally free.
Choose from thousands of entertainment options on-demand, with no subscriptions, purchases or rentals required. Plus, Roku customers in the United States can easily add 40+ Premium Subscriptions from SHOWTIME®, AMC+, STARZ, EPIX and more! Enjoying your favorite entertainment has never been easier."
2. Tubi – Free Movies & TV
Tubi is another multi-content channel where you can find a range of movies and TV shows. Watch thousands of hit movies and TV series for free. Tubi is 100% legal unlimited streaming, with no credit cards and no subscription required.
Choose what you want to watch, when you want to watch it, with fewer ads than regular TV. Tubi is the largest free streaming service featuring award-winning movies and TV series. There is something for everybody; from comedy to drama, kids to classics, and niche favorites such as Korean dramas, anime, and British series.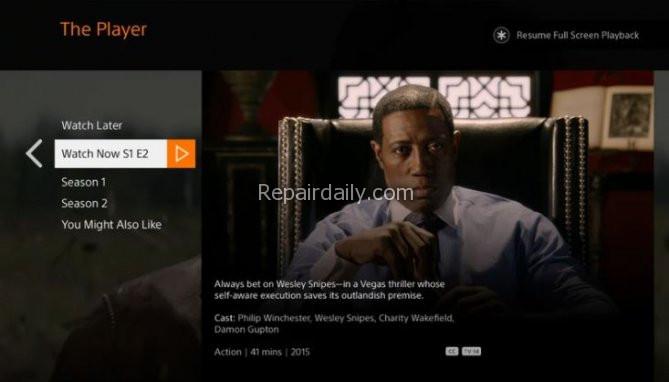 Stream free movies, TV series and originals on your favorite devices. Wait, free? Yes, free, always and forever. Watch premium TV shows and movies from a full library of new and iconic hits. All on-demand, without a subscription.
Set up a free account to see fewer ads and to pick up where you left off on any device.
Filter genres like comedy, drama, action, thriller and fandom to find fresh hits and all-time classics. Fill your 'Watch Later' list with all your favorite titles.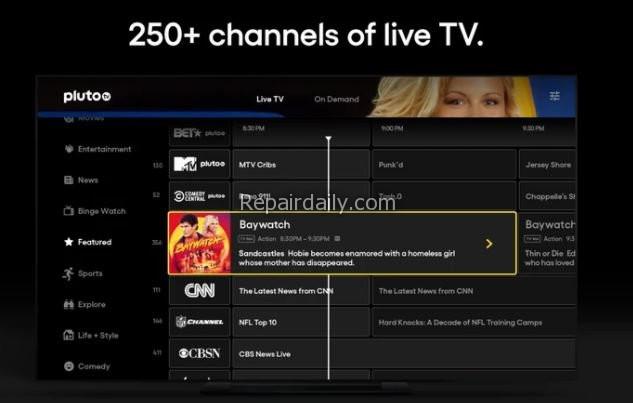 Welcome to a whole new world of free TV. You can watch 100+ channels and 1000s of movies free!
Tune into your favorite channels streaming the greatest movies, binge-worthy TV shows, true crime, sports and more. Always on. And always 100% free! You'll never have to pay for Pluto TV. No credit cards. No bills. No contracts. No signup. Just open the app, tune in, and watch for free.
Watch hit movies starring stars such as Mila Kunis, Nicolas Cage, Robin Williams, Danny Dyer, Patrick Swayze and many more anytime you want with Pluto TV on-demand.
Your favorite shows are playing 24/7 with channels dedicated to FBI Files, Ice Pilots, Degrassi, Gordon Ramsay's Hell's Kitchen, Ghost Dimension, Fear Factor, crime, retro classics like Unsolved Mysteries and FBI Files and more. Below are few lists of free channels from Pluto TV.
Pluto TV Movies
Pluto TV Drama
FBI Files
Ghost Dimension
MinecrafTV
Pluto TV Conspiracy
My5 Documentaries
My5 Crime
Pluto TV Kids
Pluto TV Crime
FailArmy
World Poker Tour
Pluto TV Sports
Pluto TV Food
Pluto TV Retro Toons
IGN
World Poker Tour
Ice Pilots
+1,000s of movies and TV shows on demand
5. XUMO – Free Movies & TV
Xumo offers free live TV and on-demand streaming. There are more than 190 channels to surf through, including sports, local news, comedy, horror movies and much more.
XUMO has an amazing lineup of channels that span twelve genres, including: LIVE 24/7 news from CBSN, the best in comedy from channels like FailArmy, Just For Laughs and America's Funniest Home Videos. Stream game highlights and analysis from FOX Sports, PGA TOUR and USA TODAY SportsWire.
You can gather everyone around for family-friendly entertainment from Got Talent Global, PBS Digital Studios, Family Feud and Hooplakidz. Travel the world with Tastemade, Condé Nast Traveler and bon appétit. Keep up with viral hits from JukinVideo and style trends from Vogue, Refinery29 and more.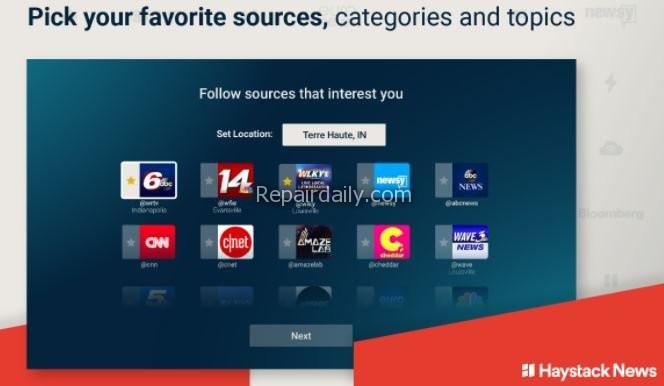 With Haystack, you can watch local and global news from 300+ channels.
Haystack News is your go-to for hyper-relevant news, from local coverage to global current events. It's the best way to watch a variety of coverage, all in one place, and absolutely free.
Choose the categories, sources and topics that matter most to you to customize your newscast.
Explore channels like Business and International News with stories from only the most trusted news channels, including ABC News, CBSN, Newsy, AP, CNET, Euronews, Cheddar, CBC, Bloomberg, and more local news coverage than any other streaming service.
Take a deep dive into important topics and trends with dedicated channels that bring coverage from all over the world together in one convenient spot. Explore new topics with Haystack Spotlight, our channel dedicated to captivating long-form coverage and mini-documentaries.
A combination of "free" and "awesome" — enables you to watch free and awesome movies, TV shows and more. This channel's library consists of thousands of titles in genres ranging from rom-coms and family to action and horror, and it's constantly updating and adding new content.
All content on Fawesome is free, legally licensed and with great streaming quality. They have Sci-fi, horror, British channels.
Aside from the usual genres you'd expect, Fawesome also includes an anime genre. Plus, the company behind it has created some separate niched, free streaming channels, such as Fawesome LGBTQ, Fawesome Black Cinema and Fawesome Bollymix, to name but a few.
Next up is a service you're probably familiar with, but you might not have known that they offer a free channel on the Roku platform.
And while they don't necessarily offer free movies or TV shows, Vevo offers thousands of music videos from today's freshest new artists to your favorite throwbacks.
Launch the channel and you'll be immersed into an instant feed of music videos, or dive into one of the themed channels divided into genres, moods, collections, and decades.
Vevo's team of music video experts are adding new content to the platform daily, so give it a shot – you might just find your next favorite song.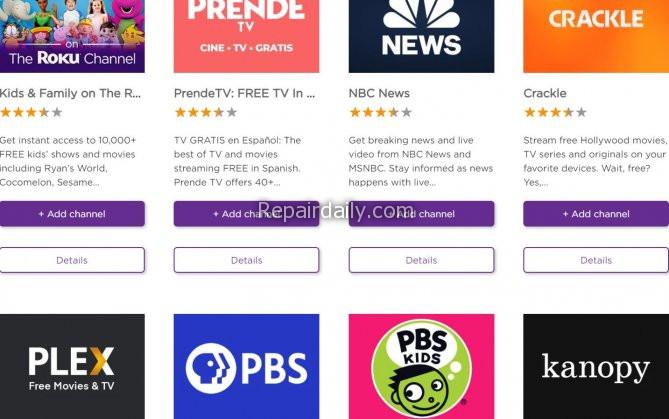 HappyKids is a free and safe app that entertains and educates kids of all age groups with Popular shows, Music, Stories, Movies, DIYs, Vlogs and much more. The content is segmented both by age group and by interest. This makes it super easy to find the videos best suited for your child. We also have a Learning section, which has educational videos arranged both age wise and grade wise.
KIDS' FAVORITE SHOWS IN ONE PLACE:
Watch your child's favorite shows like Paw Patrol Pup Tales, Ryan and Friends, Cocomelon, LEGO Ninjago, Barbie Dreamtopia, Angry Birds, Thomas & Friends, Pokemon, Talking Tom, Care Bears, Sonic, Blippi, Oddbods, Little Baby Bum, Gallina Pintadita, gaming videos from Minecraft & Roblox, and many more!
Discover Kids & Family friendly movies which are perfect for Movie night with the family.
APP FEATURES:
• Content divided among age groups for easy discovery
• No email ID, registration, or fees required. All videos are completely free! Just install and start watching.
• Choose from a library of over 55,000 Kid safe videos
• HappyKids is COPPA compliant, and is awarded with the Kidsafe+ COPPA certified seal.
Cooking Guide TV is a great source for sprucing up your kitchen knowledge. It offers recipes, cooking tips, healthy cooking options and much more. Whether you're a foodie, health-conscious or are just bored of your current home menu, Cooking Guide TV will help add variety to your diet — healthy or not.
NBC's streaming service, Peacock has multiple pricing tiers, but a bunch of popular movies and TV shows are available in the free tier.
Similar to some of the other channels mentioned here, they have a linear channel guide to use when you feel like browsing as well as a lot of titles on demand.
Watch Peacock Originals, hit movies, and if you're a WWE fan, there's a bunch of content, including past events that you can stream for free.
Get Peacock for FREE and stream hit movies and TV series. Upgrade to Peacock Premium/Peacock Premium Plus for more!
Thousands of hours of hit movies & TV shows
Every live WWE pay-per-view, plus the WWE Vault
30+ Peacock Channels
Live sports, plus highlights & docs
Exclusive Peacock Originals
Kids TV shows & movies
Telemundo Spanish-language series
Popcornflix offers a whole range of hit movies and television shows worthy of, well, getting the popcorn out. You'll find classics like the 1934 movie Murder on the Orient Express and more recent blockbusters like Lord of the Rings. There are lots of genres to choose from and a decent menu of foreign films, stand-up comedy, documentaries, foreign films and more.
There are also separate Popcornflix Kids and Popcornflix Comedy categories Roku channels.
13. PrendeTV: FREE TV In Spanish
TV GRATIS en Español: The best of TV and movies, streaming FREE, in Spanish. Prende TV offers 40+ unique channels, your favorite programs, and thousands of movies from every genre, in Spanish on all of your screens. PrendeTV is the TV you deserve.
From Hollywood hits to acclaimed series, novelas, comedies, classic sports, programs for the entire family and more.
The best streaming TV and movies
All in Spanish
Always FREE
On all of your screens
The first and only free streaming service in Spanish where you can watch a wide selection of hit television programs, movies, classic sports, sitcoms, series, telenovelas, and much more. On PrendeTV the entire family can enjoy a wide variety of programs featuring the stars and stories you know and love and that have captivated us throughout our lives.
Hollywood movies
Latin American series
La Rosa de Guadalupe
Liga MX
Novelas
Sitcoms
Nature documentaries
European soccer
Children's programs
Anime
The FREE app works without limits on all screens and features a massive on demand library with thousands of well-known titles.
Science fiction fans will appreciate Comet TV's effort in bringing viewers a free sci-fi streaming experience, loaded with popular favorites and classics. Its lineup includes movies and TV shows, such as the 1933 horror movie The Vampire Bat and 10 seasons of Stargate SG-1. Comet TV is a great substitute for anyone missing the Sci-Fi channel in its early days.
Local weather forecasts tailored for you. This free and easy to use award-winning app streams live weather newscasts from certified meteorologists, provides your local weather data, local weather alerts (U.S. only) from NWS (National Weather Service), weather maps and more. Make decisions about your day or next vacation! Get weather data anytime.
Features include: Track current conditions, forecasts and NWS alerts (U.S. only) for your location or save your favorite places to easily access. Access weather maps (U.S. Only) with multiple layers like Radar, Visible Radar, Current Winds, Current Dew Points, Advisories and more. Access video on demand segments from Weather on Demand, Weather Remix, Digital Drop and Space & Science.
Current Temperature, Feels like Temperature, Forecasted High/Low Temperatures and Hourly Views for the next 24 Hours with Wind Speed, Humidity, Dew Point, Barometric Pressure and Percentage Chance of Precipitation.
36 Hour View with High/Low temperatures, Feels like Temperatures and Percentage Chance of Precipitation, Extended Forecasts with Forecasted high/Low Temperatures, Wind Speed, Humidity, Dew Point, Barometric Pressure, Percentage Chance of Precipitation and Sunrise/Sunset information. It's weather 24/7/365. Get started and get weather aware. Get the only Weather app with live streaming and weather news stories.
16. KidoodleTV – Safe Streaming
Watch popular shows like PAW Patrol: Pup Tales, LEGO City, Talking Tom, Roblox, Jim Henson's Mother Goose Stories, True & the Rainbow Kingdom Shorts, Sunny Bunnies, Little Baby Bum, Pocoyo, Oddbods and more. Stream what you want to watch, when you want to!
No hidden fees, no subscription and no payment necessary. Our ad-supported plan offers unlimited access to our entire Safe Streaming™ library.
Download Kidoodle.TV® for FREE and your kids can:
Instantly watch unlimited episodes and full series on-demand
Easily tap to discover new shows-updated weekly!
Search for favorites across the entire content library
Create your own profile, customizable by color, avatar, title selection and age group
Watch and learn with fun and educational cartoons and live-action shows
Dance all day with musical sing-a-longs
Kidoodle.TV is available in more than 140 countries, and is accessible on more than 1,000 devices.
Kidoodle.TV does not collect any personally identifiable information from your child and is a recipient of the kidSAFE+ COPPA Seal.
What began in 1984 as a technology, design and entertainment conference, TED has now formed into its own Roku channel. It's home to powerful talks from expert speakers on a range of different topics. Choose from business, science, finance, culture, medicine and much, much more. Thankfully, there's a search function so you can narrow down what you're interested in.
If you don't know about Plex, you're in for a treat, as it's one of the more unique channels on the Roku platform.
It has both a live TV channel guide and a library of on-demand movies and TV shows, but there are a few sections that make Plex stand out a bit from these other free channels.
There's a section for free web videos, a bunch of popular podcasts, and if you set up the free Plex Media Server, you can organize and stream your own personal collection of movies, TV, music, and photos right on your Roku device.
FilmRise is one of the larger free, ad-supported streaming services out there. It has Horror, Crime, British sub categories for more entertainment.
When you launch FilmRise, you're going to see lots and lots of rows of free movies and TV shows, similar to some of the other channels we've mentioned.
One cool feature of the FilmRise channel is that if you scroll to the Popular Channels row, they have dedicated streaming channels for whatever genre you're into.
Whether you like westerns, true crime, sci-fi, or horror, there's probably a channel that's right up your alley.
Newsy is a great source for keeping up to date with the latest news and top stories. It also lets you scale down to category-specific news, such as politics, tech, sports, world news and so on. You'll also find documentaries for specific topics.
ChefsFeed is a free cooking channel with original content that includes a mix of dining and drinking guides, cultural cuisine, culinary tips and much more. You'll also find everything from restaurant recommendations by top chefs to cooking classes to culinary events. It's the perfect fix for any foodie and totally free.
Watch live, local TV newscasts for FREE from 275+ trusted local news stations across the U.S. with the NewsON app. No cable subscription or login required. Enjoy local news with NewsON anytime, anywhere!
Live. Local News. Nationwide. FREE.
Stream live local news, previous newscasts (up to 48 hours), and local news clips
Watch breaking news coverage of local stories gaining national attention from where it's happening
Always know which stations are broadcasting LIVE with our "Live Stations" feature
Easily access your favorite local stations no matter where you live
Browse our list of partner stations and explore local news across the U.S. with our "By Location" and Search features
The CW App is the only way to stream the LATEST EPISODES of your favorite shows for FREE, no subscription or password needed. Just install the app and stream the hit series All American, Riverdale, Nancy Drew, Legacies, Walker, Black Lightning, The Flash, Charmed, Supergirl, DC's Legends of Tomorrow, and more.
Features Include:
LATEST EPISODES: Watch the latest episodes of every primetime show the day after broadcast. Free.
FULL SEASONS OF NEW SHOWS: Watch every episode of Batwoman, Nancy Drew, Walker, DC's Stargirl and more, free only on The CW.
NO LOGINS: No cable subscription, no credit cards, no passwords. Ever.
IMDb TV is a free streaming video service with thousands of Hollywood movies and TV shows available anytime. You can watch the biggest blockbuster movies. Binge popular TV shows like Mad Men, Chicago Fire and Lost. Stream exciting IMDb TV Originals like Alex Rider.
Plus, IMDb TV updates its library constantly, so come back to discover new hit movies and shows each month. There's content for everyone including comedy, family, romance, thriller, science fiction, documentaries, horror and more. They have redefined free entertainment by offering thousands of premium video titles at no cost! No paid subscription necessary. Install the free channel on your Roku and enjoy the entertainment.
IMDb TV is always entertaining, always Free.
You might've rented or bought an on-demand movie from Redbox before. But did you know they offer a library of on-demand movies completely free of charge?
Redbox might not be the first name you think of when you're craving some free TV, but they have titles from genres in everything from comedy to horror to family flicks.
Give Redbox a shot and let us know what you think. Get everything Redbox has to offer without leaving your couch. Plus, now you can watch Free On Demand & Free Live TV anytime you want.
If you're after a channel dedicated to anime and manga, then Crunchyroll is the perfect Roku channel for you. You can watch hundreds of popular anime shows, such as One Piece and Attack on Titan, dramas like Akagi and Unriddle, and even read manga. Keep in mind that the free version of Crunchyroll will only stream in standard definition.
Stream Japan's most popular anime with Crunchyroll. Watch new shows like Dr. STONE, Tower of God, Re:ZERO -Starting Life in Another World-, Black Clover, Food Wars!
PBS Video features thousands of full-length episodes, Live TV from your local PBS station, award-winning documentaries, and iconic series from PBS and member stations. Stream popular PBS shows anytime, anywhere!
Catch up on your favorite shows or discover new episodes from Masterpiece, Ken Burns, NOVA, Nature, PBS NewsHour, Frontline, Antiques Roadshow, Finding Your Roots, American Experience, American Masters, Independent Lens, POV, Great Performances, and so much more. New videos are added daily.
There's also a PBS Kids channel with titles such as Sesame Street, Odd Squad and even Curious George. New content is added weekly, too.
Start watching the largest collection of English-dubbed anime and hundreds of subtitled shows from Japan on the Funimation app for Roku. Stream on your time. Start your 14-Day Free Trial today!
Funimation's expansive library of HD, ad-free anime features movies, OVAs, extras, and the hottest, top-trending shows like Demon Slayer, Fruits Basket, Black Clover, and Attack on Titan. And classics like Fullmetal Alchemist: Brotherhoodand Black Butler—or smash hits like My Hero Academia!
Your anime adventures are about to begin!
Other benefits include:
Watch Ad-Free.
Stream hundreds of new and classic anime without those pesky commercial interruptions.
Subs & Dubs
Watch simulcasts straight from Japan—plus new dubbed episodes within two weeks of their Japanese broadcast.
If you're partial to a bit of throwback daytime TV and enjoy the trash talk, paternity questions and marital issues that come with TV shows like The Jerry Springer Show, Sally Jessy Raphael or Maury Povich, then the Nosey channel is right up your street. It's the perfect channel for getting your kicks off of other people's misery.
If you're a sports fan, then the CBS Sports Stream & Watch Live channel could be your ticket to staying up to date with the latest sports events. You can watch pre-game and post-game coverage, 24/7 live sports news and highlights, and more from all types of sports, including the NFL, PGA Tour events, National Women's Soccer League and much more.
Can you watch live TV on Roku for free?
Free Live TV on The Roku Channel
Enjoy instant access to more than 100 free live TV channels at any time. With live news and weather, sports, food & home, reality TV, science fiction, true crime, kids' entertainment, and Spanish language content, we have something for everyone.
How much is Roku per month?
There are no monthly fees for watching free channels or for using a Roku device. You only have to pay for subscription channels like Netflix, cable-replacement services like Sling TV, or movie and TV show rentals from services like FandangoNOW.
Is HBO Free on Roku TV?
You can add the HBO Channel to your Roku for free, but you will need to have a paid subscription to use the service. You can simply log in if you already have an active subscription, or sign up to it and then log in if you don't.
Final Thoughts
We are movie buffs and for that reason winner for us is IMDB Channel with thousands of free movies contents.
Rokus allow you to combine all of your streaming services into one device, but having multiple paid services on Roku can become costly. Thankfully, there are free channels available, and you can find all of those channels through the Roku Channel Store menu. That said, it will only display the top free channels.
Not all channels are available in every region, so you may need to use a VPN. We hope this guide has helped you find the best free Roku channels available, so you can start watching your favorite films, TV shows, news, documentaries and more. We also have a guide for if you want to cast to Roku from iOS, Android and Windows 10.
If you experience any issues with your Roku, our Roku troubleshooting guide may be able to help.
What's your experience with free Roku channels? Do you have any free channel recommendations? Let us know in the comment section below and check out our list of the best Roku games, too. As always, thank you for reading. CBX and Redbox from above lists may not be 100% free but with the amount of free contents they have, you may not need to spend money.
FACEBOOK
TWITTER
INSTAGRAM
LINKEDIN

I'm so excited to tackle all my home improvement projects! From plumbing to DIY and cleaning - I'm ready to get down to work! #homerepair #homecleaning #plumbing #diy
---
---
---