When it comes to kitchen renovation, homeowners are always looking for styles that are trendy and creative. The best way to give a stylised look to the kitchen is changing the countertops design. One such design is white quartz with gold veining.
White quartz with gold veins is a beautiful, unique style of quartz that can add a touch of luxury to any kitchen. Because it is such a striking stone, it is often used for kitchen countertops. The bold contrast of white and gold makes a statement in any room.
To learn more about how to stylise kitchen countertops, check out the Caesarstone blog.
---
For now, let's discuss a few great ideas that can help homeowners enhance the beauty of their white quartz countertop with gold veins.
But before getting, one must understand what these white quartz countertops are: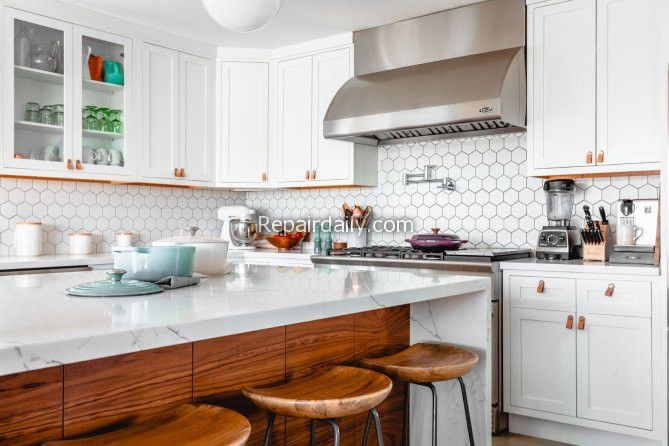 What are white quartz countertops?
Many house owners love white quartz countertops because of their functionality and versatility. White quartz countertops, often called engineered countertops, are a timeless way to enhance the aesthetics of the kitchen despite the size of the kitchen.
These countertops are called engineered because, unlike natural stones, quartz is not a material available in nature. Instead, quartz is a material prepared by human interference, which is built by combining natural ground quartz along with resins and other materials.
Since white quartz countertops are made of engineered stone, a lot of opportunities open up for playing around with designs, patterns, and shades. As a result, a lot of attractive options, like Organic White, are available. Additionally, quartz is a nonporous material and hence is almost 100% resistant to stains.
Ideas for a quartz countertop with gold veins
Introducing golden veins gives a perfect look to the pure and peaceful colour of white and also provides a resemblance of royalty to the kitchen. And when house owners compliment these countertops with beautifully designed kitchens, they provide a perfect look to the modern kitchen.
Let's take a look at such stunning ideas which can give those superior aesthetics to an individual's kitchen:
Pure white lavish quartz kitchen countertop
Quartz happens to be the best material for a kitchen countertop, and white is one of the best choices of colour for these countertops. But homeowners often get confused even after choosing the white colour as their quartz has many great shades of white to offer.
For those homeowners who want to give an elegant look to their kitchen, they can go for pure white, with gold veins. The white countertop will reflect simplicity, while the golden veins will add a hint of royalty to the kitchen countertop.
L-shaped quartz kitchen countertop
The kitchen is the most functional corner of every house and experiences a lot of footfalls throughout the day. Yet, no matter big or small, the kitchen somehow always experiences a lack of space. Hence it is always a good idea to grab the opportunities to increase the kitchen's storage space. The L-Shaped kitchen is one of the most efficacious kitchen designs preferred by homeowners.
This shape provides a lot of extra surface area for the white countertop with golden veins. This extra space could be used to store important materials within reach of the person cooking. Apart from that, this shape also saves the kitchen from the congested look and makes kitchen clean-ups easy.
Apart from being super convenient, this shape adds a beautiful highlight to the white countertop with golden veins.
White countertops with gold veins in island kitchen
Who doesn't want a kitchen area that looks spacious and clean? This could simply be achieved by designing the kitchen in a way where all the storage units and appliances are stalked in the walls. What to do with the left space? Create an island. Once the island is created, finish it off with a glossy white quartz countertop with some gold veins.
A monochromatic kitchen countertop
A kitchen that includes a quartz countertop has its own charismatic features. This is the reason why quartz countertops never go out of trend. One such feature is a monochromatic countertop with which house owners can play around. This type of countertop has the involvement of two quartz countertops.
For example, the upper part could be made of white quartz with gold veins, and the side could be made of a black countertop with some white patches could be a great aesthetic addition to the kitchen.
Kitchen countertop with built-in kitchen sink
Inbuilt kitchen countertop designs are also getting quite popular among house owners. Homeowners can also go for unique and exclusive countertops designed for their countertop.
Apart from giving the kitchen an exclusive look, these countertops also provide the countertop with more functionality.
Individuals should always choose a light-textured white countertop when going with a built-in kitchen sink. The addition of golden veins also provides a beautifully unique look to the countertop as it provides the countertop with a beautiful touch of royalty.
Hexagonal shaped countertop
This design is perfect for those who want to utilize every corner of their kitchen. The hexagonal design also provides the kitchen with a lot of foot space, giving it a spacious look. A more glorious look could be given to this type of kitchen with white quartz with gold veins countertops.
Match kitchen countertop with kitchen cabinets
A perfectly matched design is always delightful to watch, not just for the kitchen but in any other room. Homeowners who own a small apartment could bring in cabinets that contrast with their white kitchen countertop with golden veins. The best-recommended cabinets, in this case, can be of golden or white colour as they best contrast with the white kitchen countertop.
Seven ideas for white quartz with gold vein — Conclusion
White has always been a colour that resembles class and sophistication. White quartz with gold veins has the ability to not just add a classic look to the kitchen but also resemble royalty in a way.
The ability of the colour white to go along with most of the colours is another "X" factor that attracts the house owners towards these countertops.
FACEBOOK
TWITTER
INSTAGRAM
LINKEDIN

I'm so excited to tackle all my home improvement projects! From plumbing to DIY and cleaning - I'm ready to get down to work! #homerepair #homecleaning #plumbing #diy
---
---
---