Skylights are a popular trend that can bring natural light into residential and commercial spaces, and they come in two main types: pitched roof skylights and flat roof skylights. However, while the incoming natural light is amazing, weather changes can cause deterioration and require regular maintenance.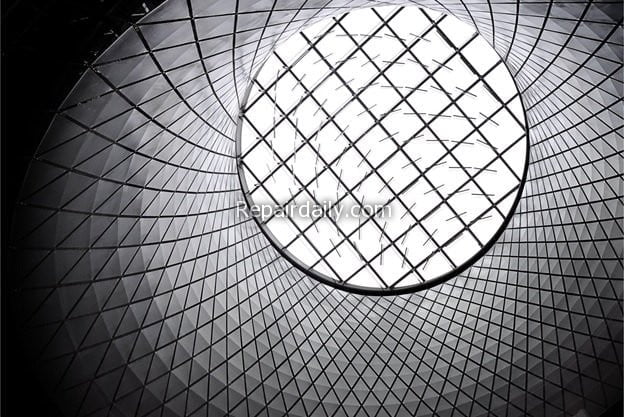 Skylights Regular Maintenance Routines
Like most parts of a building, skylights require regular maintenance to ensure they remain effective. This is especially important for commercial buildings where skylights are often high up in the ceiling, making regular maintenance difficult. However, neglecting skylight maintenance can lead to damage and the need for repairs.
This article provides a guide on essential maintenance tasks for both pitched roof skylights and flat roof skylights, and how to identify and repair common skylight problems.
Considering the location of skylights, it is inevitable that they will gather dust, dirt, spiderwebs, and things flying in the air. Here are some maintenance tips that are useful for both pitched and flat roof skylights to ensure they remain effective.
Interior Cleaning
If your skylight is not too high in the ceiling, you should look for a way to clean off the accumulated dust and spiderwebs. Here are the steps necessary for interior cleaning.
By following these maintenance routines, you can ensure that your skylights provide you with natural light and last for many years to come.
Mix lukewarm water with the manufacturer's recommended cleaning soap or detergent.
Fill a spray bottle with water and spray the window.
After the skylight has soaked in the water, wipe the window with a clean cloth.
Dampen a clean cloth with the warm water solution and wipe the window again.
Use a wiper or squeegee to wipe in even patterns to get a streak-free window.
Dust and wipe the frames with a clean, dry cloth.
Exterior Cleaning
If you have access to the exterior windows, remove the leaves, dust, and debris that have accumulated over time. A pitched roof lights installation angle allows more debris to fall away, so cleaning does not have to be as regular.
Often, professional cleaners do exterior skylight cleaning to prevent accidents and ensure the windows are wiped clean.
Call a professional to determine how often exterior cleaning is needed.
Check for Leaks
Leaks are the leading issues you can have with skylights. It is essential to always check and inspect your skylight for leaks.
After cleaning the glass or plastic, inspect it for any breaks or cracks caused by windblown debris, falling branches, or other accidents. Look for signs of leaks inside by checking the drywall for bulges, stains, or mildew.
Leaks can cost a loss if not attended to immediately. Leaks can lead to mold and interior and exterior damage. Inspect your skylights for leaks once a week or two.
Check the Gears
If you usually open the skylight with a hand or motor, you should regularly check its gear. Try opening and closing the unit several times to confirm it works perfectly.
Check the Motors
An electric motor frequently powers skylights situated in high, inaccessible areas. The engine will either open and close the skylight or move a shade in and out of position.
Run a motor test as part of a maintenance routine. If you discover it is not working properly, hire a qualified professional certified contractor to repair it.
Limit Condensation
If your skylight is low enough, it might get condensed often. And condensation on skylights can have the same effect as leaks.
If you notice condensation on the skylight, you should allow more ventilation.  You can try these methods to increase ventilation.
Dry the laundry outside.
Open the skylight light for 5-10 minutes every day
Close the bathroom and kitchen doors (especially when cooking)
Maintain a room temperature of 65-68 degrees.
Flashing Inspection
Poor installation and deterioration of the skylight flashing can lead to larger problems within the property, such as annoying leaks and condensation.
It is critical to always keep the flashing in good functioning order. To maintain a healthy skylight structure, flashing should be checked regularly throughout the inspection process and replaced if necessary.
Water Sealant Wear
Your skylight and windows have one thing in common: they have sealants to keep the surroundings waterproof. Sealants wear out over time so you will need a replacement bead to keep water out.
Changing the sealant or adding a layer of caulking may be enough to solve the problem.
How to Identify Common Repair Problems
With or without maintenance, there are various issues you can encounter with skylights. Here are ways to identify and repair them.
Leaks
A leaking skylight is not only inconvenient, but it could also be an indication of greater roof problems.
If you are suffering leaks inside your home, you should hire a trained specialist to inspect both the roof and the skylight unit. Excessive dampness, failing roof shingles, and defective flashing are all potential causes of leaks.
Leaks can also occur when the flashing (a barrier between the roof and the inside) becomes weakened.
If the skylight opens, the maintenance specialist must ensure the unit is entirely closed before inspecting the weather sealing for fractures.
Breaks and Cracks
Cracks and breaks on skylights are often caused by moving objects in the air or extreme weather conditions.
In addition to damaging its aesthetics, it can also lead to the malfunctioning of the skylight, allowing water into the home.
You can ask the repairer to fix the smaller cracks, but larger fractures might have to be replaced.
Skylight Replacement
In some situations, skylights may be irreparably damaged, which can happen if minor issues are overlooked. To avoid this, regularly inspecting and maintaining the roofing and skylight is critical. If you find that your skylight needs to be replaced, it's important to seek professional installation.
When replacing a skylight, the materials and flashing around the skylight, as well as the glass and frame, must be removed. This is a job that requires professional installation to ensure proper installation and prevent future issues.
If you're in the market for a new skylight, we recommend checking out HiSky Ltd in London. They are a skylight merchant based in Unit 3F, ManorWay Business Park, Swanscombe DA10 0LL, United Kingdom and can be contacted at +44 7714 991494. They offer a wide range of high-quality skylights and can provide expert advice on choosing the right skylight for your needs in addition to nationwide deliveries.
Conclusion
Skylight maintenance is crucial to keeping things running smoothly, especially for commercial and educational institutions, which depend on their ability to stay open without interruption.
Skylights are an excellent addition to any roof but must be maintained regularly to function properly. Do not wait until the light is not bright before you work on maintenance or repair.
Work with a reliable roofing firm that will be upfront about the need for upkeep and repairs rather than recommending replacement.
FACEBOOK
TWITTER
INSTAGRAM
LINKEDIN
---

I'm so excited to tackle all my home improvement projects! From plumbing to DIY and cleaning - I'm ready to get down to work! #homerepair #homecleaning #plumbing #diy #fixerupper #realestate #renovation #interiordesign #farmhouse #diy #homedecor #hgtv #home #farmhousedecor #modernfarmhouse #farmhousestyle #fixerupperstyle #fixandflip #homerenovation #realestateinvesting #beforeandafter #homesweethome #remodel #realestateinvestor #interior #realtor #joannagaines #flippinghouses #countryliving #design #homedesign #farmhouseinspired #investmentproperty #bhghome #renovationproject #farmhousekitchen #homeimprovement #farmhouseliving #cottagestyle #decor #realestateagent #magnoliahome #homeinspo #magnoliamarket #kitchendesign #dreamhome #shiplap #construction #houseflipping #investor #farmhousedesign #architecture #farmhousechic #homereno #rusticdecor #reno #kitchenremodel #webuyhouses #magnoliatable #rentalproperty #fixerupperinspired #newhome #interiors #homeremodel
---