Pool ownership promotes a relaxing, luxurious escape for friends and family right in your backyard. From family time and summer cookouts with friends to solo lap sessions and cooling dips, swimming pools are a source of both fun and relief. However, you can't enjoy all these benefits without putting in the work. What this means is performing routine inspections and regular pool repair and maintenance.
Regular pool repair and maintenance is necessary not only for extending your pool equipment's lifespan—but also for keeping the pool clean and reducing expenses overall. Below, you'll find a list of the most common pool equipment that requires regular inspection and maintenance.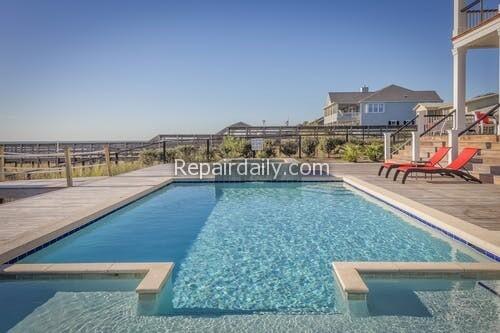 ---
Pool Heaters
Pool heaters help maintain a comfortable water temperature despite the weather, allowing pool owners to extend the swimming season and enjoy their pools at any time of day or night. Inspecting and maintaining your heater will reduce the number of pool repairs it requires over time by addressing small issues before they escalate into more significant and costly problems. Staying up-to-date on repairs will ensure that your pool heater is functioning optimally and not being subjected to unnecessary wear and tear. Properly maintaining your heater can ultimately reduce the need for pool repairs and replacements. If you put off repairs to your heater, you may find yourself unable to enjoy your pool when the temperature dips.
Pool Pumps
If you think of your pool as a circulatory system, then the pool pump would be the heart. Pool pumps are highly essential as they are responsible for pulling water and sending it to other equipment for filtering, heating, treating, and more. Maintaining your pool pump is critical because the pump and the pool system are interconnected, and any problems with the pool can affect the performance and longevity of the pump. One reason why pool repair is important for the pump is that issues with the pool can cause damage to the pump, which can reduce its efficiency and lifespan. This can lead to increased energy usage and cause the pump to fail. In summary, because your pool pump is at the center of the pool's plumbing system, it must be inspected and maintained, and any pool repair needed should be addressed accordingly. Not only will this ensure your pool's not cloudy, it will also help save electricity.
Pump Motors
It's important to proactively maintain your pump's motor because it is an essential facet of your pool's operation that is responsible for powering and circulating the water. First and foremost, failing to keep your pump motor in good operating condition will make it difficult to keep the pool clean, healthy, and safe for swimming. A malfunctioning pump motor can quickly compromise the circulation and sanitation of your pool, leading to cloudy, algae-filled water that is unsafe to swim in. Proper maintenance and care can also help ensure that your pump motor functions optimally and enhance energy efficiency. In addition, taking care of required pool repair will help prevent wear and tear. By addressing issues with your pump motor early on, you can prevent further damage and extend your pump's lifespan, saving you time and money in the long run. It will also help you avoid costly repairs and damage to other pool components, such as the filter, plumbing, or heater.
Pool Lights
No matter how lovely your pool is during the day, that aesthetic is lost once the sun sets. However, pool lights are an excellent addition that can light up your pool, making it possible to enjoy it late into the night with a clear view. Pool repair is critical to maintaining your pool lights for several reasons. By identifying and addressing any issues with your pool lights early on, you can avoid expensive repairs or replacements down the line. For example, condensation can cause damage to the electrical components of the lights, leading to malfunction or failure. Occasionally turning on your pool lights will help reduce condensation and prevent corrosion. This can also prolong their lifespan and keep them working efficiently. Furthermore, keeping abreast of repairs can help maintain the safety of your pool lights. A malfunctioning or damaged light can pose a safety hazard for swimmers, potentially leading to accidents and injuries. Pool repair can ensure that your pool lights are functioning correctly and safely so that you enjoy your pool well into the night.
 Regular Pool Repair and Maintenance: Necessary and Worth it
As you can see, regular maintenance and pool repair are a must. And while it might sound like a lot of work at first, a local pool service provider can make these tasks much easier with regularly scheduled visits. In the end, these efforts will enable you to enjoy your pool as much as possible—and your pool will thank you for it.
FACEBOOK
TWITTER
INSTAGRAM
LINKEDIN

I'm so excited to tackle all my home improvement projects! From plumbing to DIY and cleaning - I'm ready to get down to work! #homerepair #homecleaning #plumbing #diy
---
---
---