The exterior design of your house is more important than ever. And ensuring your home looks appealing from the outside (and inside) will contribute to its curb appeal, day-to-day enjoyment, and overall value.
You can even improve your home's salability by making both simple tweaks and bigger changes – like changing the color of your front door or adding window panes – regardless of whether it's a modern or traditional building.
The lightest changes involve aesthetic modifications, such as painting or cladding. In contrast, if you'd like to make a more impactful architectural difference, you can add an extension, landscape the front garden, or change the roof structure.
---
The facelift should be sympathetic to the current style of your home. You can take a variety of routes depending on what you are working with. Here is a collection of ideas on how to make your house's exterior look better in 2022.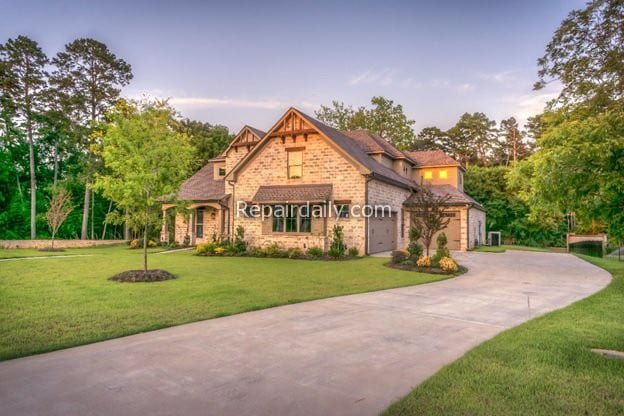 1. Swap exterior finishes.
There are numerous reasons why you might consider replacing the existing exterior finish. If you have stone cladding from the 1970s, pebbledash, mismatched bricks, or a combination of various materials, you can take them down – or, even better, clad – a completely different material to give them a new look.
Cladding is often installed over pebbledash since it is durable and easy to maintain, but the appearance can be quite harsh – especially on large, opulent houses. The easiest way to unify the different materials is to paint the exterior walls using neutral colors (white) to create a unified look. You can expect a house painter cost to be in the region of a few hundred dollars.
2. Hang window boxes.
A window box is a charming addition to any home. A super-simple and charming way to update your windows is to build wooden planter boxes. Following their installation, you can add flowers, herbs, or even fake plants if you do not want the responsibility of caring for them.
If you don't want to tack on any old window boxes, find some that match the style of your house and paint or finish them accordingly. A seamless window box will act like an architectural feature – without the expense of a renovation – so the extra effort will be well worth it.
3. Change the door.
The style of a door can make a big difference. Adding glass panes to a new door may be a good option. The glass gives an imposing facade a lighter feel. If your current door lacks detail, choose one that matches your home's architectural style, has a solid construction, and allows more light into your home.
While we're at doors, don't forget to pay attention to your garage door. It is important that garage doors match the architecture of your home as closely as possible if they are easily visible from the street. You can make a big difference by painting the garage and adding lighting in the same style as your main entrance. If you are looking for a more substantial investment, replace the garage doors or add a pergola.
4. Add a covered entrance.
Getting into the house in a rainstorm is a lot easier with a bit of cover overhead, but an entrance covered with a canopy can also increase a home's curb appeal.
Small porticos topped with pediments work well with colonial-style houses and give the entrance a sense of definition. In contrast, adding a covered porch to a cottage home is a natural fit if all the necessary space and funds are available.
5. Update your driveways and pavers.
Power washing or updating old pavers can restore the look of your home's walkways. As it is exposed to the weather, wear and tear can cause it to deteriorate quickly, so if you are considering replacing your walkway this season, consider using stone or pavers.
The driveway is an important part of the exterior. So if it is damaged or does not match your home's style, it may bring down your house's curb appeal.
There are several types of driveways you can choose from (masonry, brick, or stoneware), all of which are durable and beautiful. You can also give your patio, sidewalk, and driveway a new look by staining the existing concrete to make it look like wood or leather.
6. Pay attention to the lighting.
You can give a flat facade depth and definition with the right light fixture. Traditional gas lanterns look great on farmhouses (modern or not), colonials, or other traditional-style homes. Decorate your cottage or Cape Cod-style home with nautical-style lanterns.
Pendant lights are one of the best exterior lighting ideas if you're going for a modern look. This light brings home the vintage charm with a touch of modernism. The matte black finish gives the lighting fixture an attractive appearance and complements outdoor chandeliers well.
7. Don't forget landscaping.
Your home will look more inviting and bright if you add greenery and seasonal flowers. Make your backyard more seasonal by switching those summer lilies for fall flowers like bidens, calibrachoa, and garden mums. From hanging plants to flower beds, there are endless possibilities.
You don't have to invest in expensive landscaping to improve your home. Rather, the smallest details make the most difference, like immaculately maintaining what is already there. Ensure your lawn is in good condition by following a regular lawn care program that covers all the basics, including reseeding when necessary.
While simple outdoor decorations can make a big difference, too much clutter can be a major distraction. It's all about finding the right balance and experimenting with decorative items until you find the perfect combination. It includes large furniture, such as porches and patios, along with a variety of smaller items, including garden décor and seasonal decorations.
8. Choose the right roof.
You may not notice a roof when it looks right, but you'll definitely notice it when it looks wrong. Replacing the roof of your house is a big undertaking, so you'll want to practice first. But after narrowing down your choices to a few in your budget, it might be worth consulting a professional to choose the material and hue that complements your home's style and color.
Conclusion
Whether you've got a cottage needing a facelift or a bland colonial you'd like to give some personality to, choosing what to change about the exterior can be difficult. It's not a good idea to force a totally different aesthetic on your home, but adding the right exterior features can make a significant difference.
FACEBOOK
TWITTER
INSTAGRAM
LINKEDIN

I'm so excited to tackle all my home improvement projects! From plumbing to DIY and cleaning - I'm ready to get down to work! #homerepair #homecleaning #plumbing #diy
---
---
---