Flooring is a crucial aspect of any interior decor, serving as a foundation and backdrop for the entire space. Unfortunately, outdated, damaged, or simply unattractive flooring can detract from the overall aesthetic of a room and make it feel uninviting. While retiling may seem like the only solution, the process can be time-consuming and costly.
But don't despair. There are plenty of budget-friendly options available to upgrade your flooring without having to retile. 
This article will provide five practical ways to cover up your ugly flooring and elevate the look of your space. Whether you're dealing with dingy linoleum or unsightly tile, these solutions will help you achieve the stylish and sophisticated look you're after without breaking the bank.
---
Let's get started!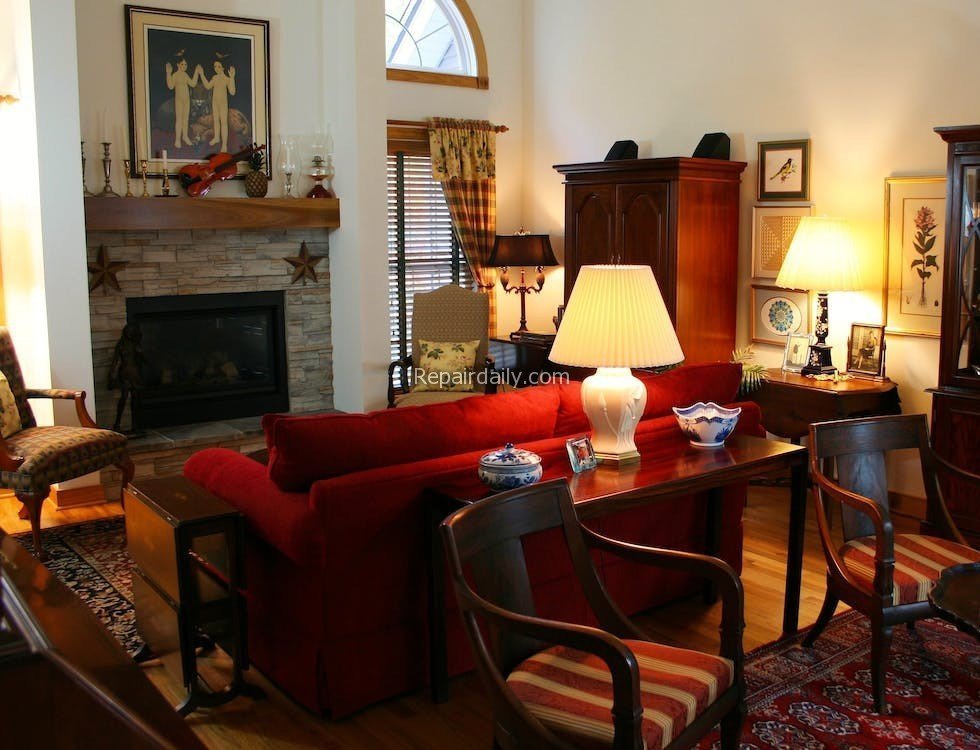 1. Wall-To-Wall Carpeting
Wall-to-wall carpeting is a cost-effective and simple solution to hiding damaged or unattractive floors. 
The carpeting not only gives a luxurious look to the room but also provides insulation that helps regulate the room's temperature and reduces noise levels. The thickness and softness of the carpeting can effectively mask any imperfections on the floor, giving the room a clean and polished appearance. 
Additionally, carpeting comes in a wide variety of colors, patterns, and textures, allowing you to choose the perfect option to match the style and aesthetic of your space. The installation of wall-to-wall carpeting is relatively straightforward. It can be completed in a relatively short amount of time, making it an ideal option for those looking for a quick and efficient flooring solution.
2. Area Rugs
Area rugs are a great solution for covering up unsightly or damaged floors. They not only offer a practical solution but also enhance the overall decor of a room. Oriental rugs, in particular, are known for their intricate designs, vibrant colors, and traditional patterns. 
These types of rugs have been used for centuries to add character and elegance to any room, and they come in a variety of sizes and designs to fit the specific needs and tastes of each individual.
There are also a number of popular oriental rug materials to choose from when choosing one for your home. A rug made of lightweight material may not provide enough coverage for a heavily used room, while a rug made of heavy material may be too bulky for a smaller space.
Wool rugs are soft and durable, while silk rugs are known for their luxurious shine and rich colors. Cotton rugs, on the other hand, are lightweight and easy to care for, making them a great option for homes with children or pets.
The overall design of the room and the size of the rug are other important things to consider. A rug that is too small can look out of place, while a rug that is too large can overwhelm the space. 
3. Carpet Tiles
Carpet tiles offer a quick and easy solution for covering up damaged or stained flooring. They are also an affordable alternative to retiling, as they are typically less expensive than traditional flooring options.
Additionally, carpet tiles are easy to install and can be laid directly on top of the existing flooring without the need for extensive preparation or removal of the old flooring. This makes them an ideal solution for homeowners or business owners who want to quickly and easily improve the appearance of their floors without incurring the cost and hassle of a full flooring renovation.
Another benefit of carpet tiles is that they are highly durable and can withstand heavy foot traffic, making them a good option for high-traffic areas. In addition, carpet tiles come in a variety of colors and patterns, so you can choose a design that complements the existing décor of your space.
4. Vinyl Flooring
Vinyl flooring is a great option for upgrading your existing flooring without undergoing the time and expense of retiling. It is easy to install, making it a cost-effective solution for covering up unsightly flooring. 
Due to its versatility and durability, it is becoming a popular choice among homeowners by the day. As per reports released by FMI (Future Market Insights), the global vinyl flooring market is projected to be worth $41,578 million by 2028. 
Another benefit of vinyl flooring is its resistance to damage. Unlike some other flooring materials, vinyl flooring is water-resistant, making it a great option for areas such as kitchens and bathrooms. It is resistant to scratches, stains, and scuffs, which means it can be cleaned easily and quickly and will continue to look great for years to come.
Additionally, it is available in a range of thicknesses, with thicker options providing better insulation and a more comfortable feel underfoot. This is especially important for those who are looking to cover up an old, cold, or hard floor.
5. Using Furniture to Hide Damaged Areas
Finally, hiding damaged areas of the floor with furniture is a cost-effective and quick solution to covering up floor damage without having to go through the hassle and expense of retiling.
This method works by placing furniture, such as couches or tables, directly over the damaged portion of the floor. This can help to both conceal the damage and protect the floor from further damage while also adding a decorative element to the room. The furniture not only covers the floor, but it can also draw the eye away from the damaged area, making it less noticeable. 
Additionally, using furniture to hide damaged flooring can help to create a cohesive look in the room, as the furniture can be chosen to match or complement the other décor. This is a simple and easy way to enhance the appearance of a room without making major renovations and can be a great alternative for those who are on a tight budget or do not have the time to undertake a more extensive renovation project.
Conclusion
Covering up ugly flooring can be a challenge, but it doesn't have to be an expensive or time-consuming one. The five ways outlined in this article provide practical, cost-effective, and creative solutions for hiding flooring that is outdated, damaged, or simply not to your taste. By utilizing these simple methods, you can transform your space and add value to your home without spending a fortune.
FACEBOOK
TWITTER
INSTAGRAM
LINKEDIN

I'm so excited to tackle all my home improvement projects! From plumbing to DIY and cleaning - I'm ready to get down to work! #homerepair #homecleaning #plumbing #diy
---
---
---