Are you choosing paint colors for a senior's home? It takes more than just picking pretty shades. The perfect palette can light up a room and even lift spirits! The good news is, it helps with the overall well-being of our elderly too. Let's dive into some top-notch color options that consider vision clarity, mood-boosting vibes, and all-around comfort!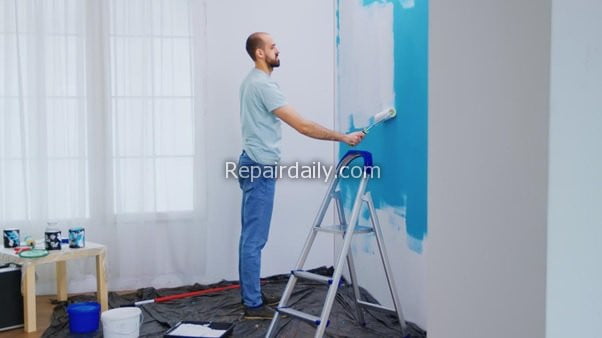 The Significance of Color for Seniors
Colors can do wonders in seniors' lives, affecting moods and even thinking. As they age, the way folks see colors changes—some may seem duller while others too vibrant. Softer tones over loud ones work best here.
Also, did you know each color influences mood? Warm hues like reds or oranges could make one comfy & cozy. Blues or purples might chill things out a bit more—it all depends on what vibe we want for which room!
Here's where assisted living communities ace! They use colors to create comforting spaces that help with direction-finding and always feel homely – setting just the right scene for senior well-being.
Best Color Choices for Different Rooms
Are you painting a senior's home? Let's think about the vibe of each room. Bedrooms should be chill – so let's aim for calming colors like light blues or soft greens to aid in sleep and relaxation.
Now, living rooms and dining spots are all about socializing! Cozy shades such as peachy tones or sunny yellows could get conversations flowing easily. Even neutral tints—think beige or gray—are great at creating an inviting feel without being too much.
And then there is our kitchen—it must shine bright! Classic whites and grays work wonders, but you can also go with cheery yellow hues to keep things fresh!
How To Balance Colors for Seniors
Choosing colors matters, but so does balance. You don't want a color explosion or dull monotony in a home. The sweet spot lies somewhere between.
Have you heard of the 60-30-10 rule? It is an easy guideline for just that! Use your main color on about 60% of the room, switch it up with another one covering around 30%, and then add some pop with an accent shade taking over maybe just about 10%. Just like that – balanced style without overwhelming!
Don't forget to use contrast where it counts – door handles, light switches, etc. This makes things easier to find for those whose eyesight might not be as sharp.
Conclusion
Picking out paint colors for a senior's home can be quite fulfilling! The goal is to lift spirits, bump up comfort levels, and make life even better. With the perfect color combo, you can transform any house into the ultimate chill-out zone for our older buddies.
FACEBOOK
TWITTER
INSTAGRAM
LINKEDIN
---

I'm so excited to tackle all my home improvement projects! From plumbing to DIY and cleaning - I'm ready to get down to work! #homerepair #homecleaning #plumbing #diy #fixerupper #realestate #renovation #interiordesign #farmhouse #diy #homedecor #hgtv #home #farmhousedecor #modernfarmhouse #farmhousestyle #fixerupperstyle #fixandflip #homerenovation #realestateinvesting #beforeandafter #homesweethome #remodel #realestateinvestor #interior #realtor #joannagaines #flippinghouses #countryliving #design #homedesign #farmhouseinspired #investmentproperty #bhghome #renovationproject #farmhousekitchen #homeimprovement #farmhouseliving #cottagestyle #decor #realestateagent #magnoliahome #homeinspo #magnoliamarket #kitchendesign #dreamhome #shiplap #construction #houseflipping #investor #farmhousedesign #architecture #farmhousechic #homereno #rusticdecor #reno #kitchenremodel #webuyhouses #magnoliatable #rentalproperty #fixerupperinspired #newhome #interiors #homeremodel
---