Fire-rated doors are now requirements in most commercial buildings. Doing this is to adhere to the IBC and the NFPA. Fire-rated doors help firefighters as they help prevent or slow down the spread of fire in buildings, giving the tenants time to exit the building. You can usually locate these fire-rated doors in elevator shafts and stairwells where smoke and fire can pass through multiple building floors. The best part is that there are fire-rated doors for all surfaces, from drywall to cement.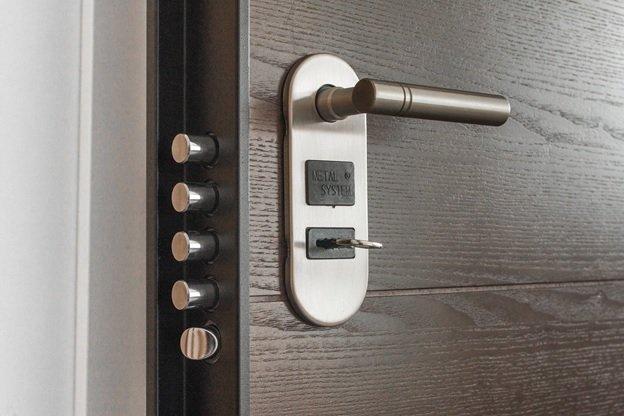 Why Install a Fire-rated Access Door?  
There are many reasons to get a fire-rated door in your commercial building. You can get them as an added safety precaution, extra security, code compliance, and more. Aside from providing aid to firefighters during a fire, here are some additional benefits you get when you install a fire-rated door in your commercial building.     
---
Additional safety   

 

For all types of surfaces   

 

Customizable   

 

Added Security   

 

Accessibility   

 

Code Compliance  

 
When you install one, this list of benefits can grow longer. Just having an access door on your property is already beneficial enough. What more if it was the fire-resistant kind? Before installing a fire-rated door on your property, you must first know what type of fire-rating you need for the type of commercial building you have and where you would be installing the fire-rated door. Things that affect the choice of fire-rated door you need are:    
Fire-rating: The fire-rating of the door will differ. You need to read the codes to know what minimum fire-rating requirement you need for your commercial establishment. If you want to be safe, you can always choose a fire-rated access door with a fire rating of 180 minutes, the highest.   

 

Material: Choose between an aluminum fire-rated door or a stainless steel door.   

 

Lock Options: Fire-rated access doors can come with lock options. Some even come with a self-closing hatch and others need a key. You can choose the type of lock you want and require depending on the purpose of the fire-rated access door.   

 

Size: You should also consider the size of the access door you are installing. Choosing the wrong size can cause more problems than solutions. Depending on its purpose and location, you might only be adding danger to your building by selecting a fire-rated access door that is too small or too big.   

 

Location: You should also consider the location of the fire-rated access door. Some areas require them, like elevators and stairwells, but other sites might also need them. It will depend on the design of the building, how you will guide the foot traffic in case of fire, and the type of establishment it is.   

 
The NFPA and the IBC often require particular fire-rated doors for specific commercial buildings. If you are wondering what type of building these are, or if you are unsure if your retail space needs a fire-rated door, here are the most common types of commercial areas that require these:     
Hotels and Casinos   

 

Restaurants   

 

Industrial Buildings   

 

Hospitals   

 
Do You Need One?   
Understanding the need for fire-rated doors in these places might help you decide if your commercial space requires it or not. Even if your business is not under the most common commercial areas that use and need fire-rated doors, it would still be up to your discretion if you need one or not. Here is a breakdown of why these fire-rated doors should be present in common areas:    
Elevators   
While it is not ideal that you use elevators in case of fires, some people and tenants require ease when exiting a building that is on fire. You can have fire-rated elevator doors in your facilities to provide these PWDs easy access and help firefighters navigate the building without delay.    
Stairwells   
Stairwells are the main escape route for most people as fire can take some time to spread from one floor to another. Although, without a fire-rated door that can delay the spread of the smoke and fire, there would be more chances of casualties and property damage.    
Hallways   
Hospitals require fire-rated access doors in hallways that are big enough and accessible enough for carts and gurneys. A fire-rated access door is also chosen in hospitals because it adds additional security to hospitals, safety, and accessibility in emergencies. One way that hospitals meet IBC standards is to use a fire-rated swing door and a fire-rated elevator door for easy transportation of patients that cannot pass through stairwells in case of a building fire.    
Roofs   
Roof hatches can also come with fire-rated properties, which will help in case the fire starts from the bottom, and the only means of escape for some people would be going up to the roof instead of going down to ground level. Make sure that you choose a fire-rated roof hatch. 
Code Requirements   
Suppose you want to know more about code compliance regarding smoke or fire-rated doors. In that case, it primarily focuses on the safety levels and precautions in buildings that cater to the public or a good number of people. These codes can help reduce the risk of property damage and save lives. The NFPA requires fire-door assemblies to have the following:   
Third-party agencies must grant the fire ratings. The fire ratings can come in 20 minutes to 180 minutes, and you should see them on the product label.   

 

The fire-rated door you choose should meet the standards of the NFPA, the IBC, and the IFC.   

 

All fire-rated doors need to come with a self-closing hatch.   

 

A fire-rated door should come with a positive latching.   

 

The fire-rated door should have a label of its fire rating. It should be visible.   

 
Having a fire-rated door does add additional security to not only your building but also safety precautions. It can come in varying sizes and customizable options to better fit the type of fire-resistant door you are looking for. When owning a commercial building, the safety of your employees, clients, and tenants should be at the top of your list of priorities, especially in fire emergencies.   
FACEBOOK
TWITTER
INSTAGRAM
LINKEDIN

I'm so excited to tackle all my home improvement projects! From plumbing to DIY and cleaning - I'm ready to get down to work! #homerepair #homecleaning #plumbing #diy
---
---
---