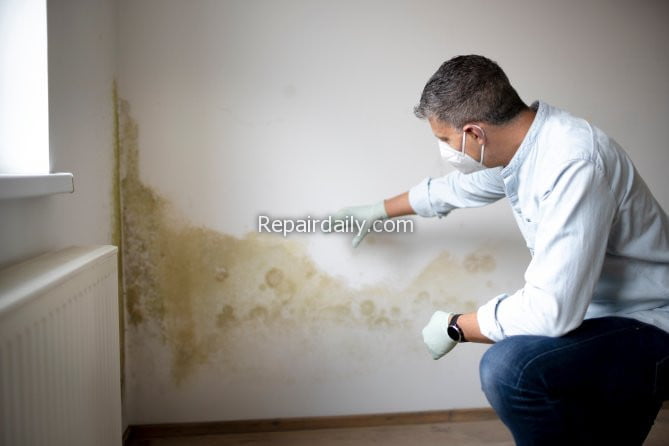 Keeping your house clean should always be on top of your priority list. Not only will it help make your house look neat and well-organized, but it can also allow your home to be a healthy place to live in, free from bacteria and other possible illnesses. While you can always throw out the trash and keep the surface clean, getting rid of mold is one of the few things you should do.
Mold is a fungus that grows inside your home that strives in a moist environment. When an area inside your home produces excessive moisture, such as your kitchen and roof, you can expect mold to form around it quickly. While you can easily look for a company like https://www.summitfacilityservices.com/ to get rid of mold, there are some issues you can handle yourself, allowing you to save money. With that, listed below are some ways to get rid of mold:
---
1. Using Vinegar
If you don't have time to run to the store and need to get rid of molds quickly, using vinegar might be your best option. With this essential cooking ingredient, you can get rid of molds right from the comfort of your own home. With its acidity, it can help to kill mold, including black mold, effectively. Moreover, they're also safe to use on any type of surface, making them a great all-around solution.
All you have to do is to transfer some undiluted white vinegar into a spray bottle and directly spray the surface with molds. Let it soak for an hour before wiping it away with water and a paper towel. Let the surface dry afterward. The scent of vinegar should subside after a few hours, making it bearable again to enter the room.
2. Using Hydrogen Peroxide
If you have hydrogen peroxide inside your medicine cabinet, you might consider using it to eliminate molds. Hydrogen peroxide is an antibacterial and antifungal solution that can effectively remove any type of mold inside your household. You can safely use this ingredient on any surface, including your walls and floors.
You can begin by pouring a 3% concentration of hydrogen peroxide inside a spray bottle or a bucket and do a test run first on your surface to see if it'll cause damage or discoloration. Once everything runs clear, you can begin spraying the entire moldy surface with the solution and scrub it with enough force to remove molds on your surface. Afterward, you can wipe the area dry. Just ensure that you don't spill it on your carpet and fabric as it might stain them.
3. Using Baking Soda
Another popular kitchen ingredient you can use to get rid of molds inside your home is baking soda. This ingredient is a popular cleaning solution that you can use almost anywhere inside your home. Additionally, it can help remove odors, making it the perfect solution for your molds, as most cleaning ingredients have a strong scent to remove them from any surface successfully.
To begin, prepare a spray bottle and fill it with water. Add a quarter of baking soda and shake vigorously until it dissolves. After making your solution, spray the moldy area with your baking soda solution and scrub until you can keep the surface free from mold. Next, rinse the surface with water until no mold residues are left. Lastly, spray another baking soda solution to ensure that you don't miss out on any mold and prevent them from returning.
4. Using Essential Oils
If you're the type of person who believes in the power of essential oils, this would be the best answer for you. While there are plenty of essential oils out there, using tea tree oil should be your best option to get rid of mold inside your home. While they're popular as insect repellants, they can also effectively remove mold inside your home.
You can begin by mixing a teaspoon of tea tree oil and one cup of warm water inside a bowl or spray bottle. Ensure that you mix them thoroughly as oil tends to float above water, making it difficult to combine the two elements. After successfully mixing, you can begin by applying the solution directly to the moldy area and letting it dry. You can choose to wipe it clean after an hour or let it soak to prevent the mold from coming back.
5. Using Lemons
Another kitchen ingredient that you can effectively use to remove mold on any surface is to use lemons, which you can easily find in your fridge drawer. Lemons are a popular deodorizer, bleach, and stain remover, which could help you with your mold issues at home. Moreover, it can also leave your home with a refreshing citrus scent, making your home smell great.
All you have to do is to squeeze three to five lemons and apply them directly to your moldy surface. Let it sit for at least five minutes and wipe away using a damp towel. For tougher stains, you can reapply the lemon juice directly and repeat the process until your home is mold-free.
6. Using Clear Ammonia
If you'd like to use a stronger material that can effectively clean any surface, using clear ammonia is your best choice. This material is a popular household cleaning tool that can effectively clean anything you want inside your home. While it might require you to set it up for a longer time, the benefits and results it'll bring to your home would be worth it.
You can make a solution by mixing one cup of clear ammonia with one cup of water and mix well. Then, apply the solution directly to the moldy area and wait for three hours before brushing the area with a sponge.
7. Using Commercial Bleach
If you'd like to skip experimenting with various household cleaning materials, going for a solution specifically designed to treat mold should be your next best choice. This way, you can guarantee results as manufacturers aim to help people remove molds inside their homes effortlessly.
All you have to do is look for the best commercial bleach on the market and follow the instructions. It'll be quick and easy, and you can see your home with a mold-free surface in a matter of minutes. Just ensure that you keep the solution away from kids for maximum safety.
Takeaway
Getting rid of mold inside your home can really be tricky. However, if you notice a small amount of mold inside your home, you should consider doing it yourself first before hiring a professional to save on cost. But if the mold is intense and it's growing every day, calling for professional help is your best option as they can provide you with maximum safety.
FACEBOOK
TWITTER
INSTAGRAM
LINKEDIN

I'm so excited to tackle all my home improvement projects! From plumbing to DIY and cleaning - I'm ready to get down to work! #homerepair #homecleaning #plumbing #diy
---
---
---