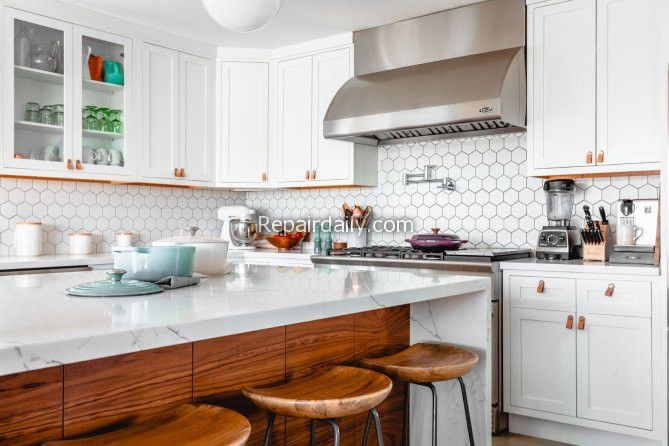 Working with Epoxy is not that difficult, but it does not mean there are no chances of mistakes, even if you are a professional. Mistakes can arise due to uneven hardening of the Epoxy, incorrect mixing ratios, or design flows. No matter what caused the problem, it is advisable to fix it when it is still wet. But are you aware of common epoxy mistakes? If not, this post is for you! In this post, we have provided our readers with the common epoxy mistakes and how to fix epoxy mistakes.
---
Common Epoxy Mistakes
Epoxy is an incredible refinishing product that gives your outdated countertop a new look. However, many people tend to make mistakes while working with Epoxy. So, it is important to learn more about epoxy countertops before repairing them yourself. To help in how to fix epoxy mistakes, here we have listed a few common problems that you should be aware of:
Incorrect Mixing
The epoxies are sold in two-part compartment kits and must be mixed properly by following the mixing ratio. Some epoxy mixing instructions state to mix the ratio by volume and others by weight. You are required to follow those instructions carefully. If you fail to mix the Epoxy properly, you might find that your Epoxy is hardening too slowly or not at all.
Not maintaining the required room temperature.
Temperature plays a vital role while working with Epoxy. It tends to comply with temperature ranges that determine how it will cure. If you do not follow the temperature needs, you will find that your Epoxy is curing fast, slow, or not. It should be stored at a temperature ranging between 60° and 70° F. When the temperature fluctuates, it causes Epoxy to solidify.
Choosing the Wrong Product
Many users complain about not getting the desired results. The reason behind this problem is that they sometimes choose the wrong epoxy product. There are many Epoxy available for different uses. It would help if you chose the Epoxy that fits your desired product. You should read the thickness usage to avoid problems while working.
Using Unclean Tools
If you did not get the glossy look they expected, the problem behind it is that you might be using unclean containers, sticks, or buckets while working with Epoxy. To avoid such problems, use clean tools for applying the Epoxy to your countertops.
How to Fix An Uneven Epoxy Resin Finish
Every epoxy resin is self-leveling. However, if you find that your Epoxy is not leveling as you expected, it could mean that you made the mistake of using little resin. To overcome such mistakes, you must ensure that your work surface is leveled.
All you have to do here is mix more Epoxy to give an even finish. If your Epoxy is already cured, you have to stand down the surface and then apply the coat of Epoxy. Or if your Epoxy is still wet, then all you need to do is put a second coat over it. Then wait for it to cure properly to have an even Epoxy resin finish.
Repairing your Epoxy Resin Countertop
After some time, you might begin to notice that your epoxy countertop is peeling off, or there are scratches over the surface. You can fix it just by applying Epoxy on your countertop to give it a new and shiny look. It is a DIY job that helps you save a lot of money. Also, when you repair it yourself, you will have great satisfaction.
How To Fix Epoxy Countertop
For starters, you are required to repair the peeling, indentations, or deep scratches that you might find on the countertops' surface area. To do this, cover all the defects with proper surface wearings.
The next step would be to sand over the defects involving the scratches with dry, 650 grit sandpaper. Ensure that the sand is parallel to all defects. When you are satisfied that your countertop is surfaced properly, clean them.
The final step is to polish the countertop's surface and apply Epoxy's thin layer. This layer should restore that glass shine and seal the surface. Now, wait for 24 hours to check if Epoxy is cured properly.
Lastly, clean the surface with a clean towel and erase any chips that might have formed on the countertop's edges.
How to get rid of Waves and Ripples from Epoxy finish
When applying Epoxy on a wooden countertop, you might find defects such as bubbles, waves, or ripples. Therefore, one coat of Epoxy is not enough to cover those defects; you are required to put in a double coat of Epoxy to fix this problem.
Firstly, apply a thin coat of Epoxy, also known as seal or flood coat. You must apply this coat all over the surface with a thickness of around 3mm. Secondly, apply the float coat that is the same as the flood coat that you applied earlier. Remember, temperature plays a vital role in epoxy work. So, be careful and try to avoid too much when you are removing ripples or waves.
Safety tips to consider while working with Epoxy
You can work on Epoxy indoors as it is non-toxic. Though, make sure to wear a mask at all times.
While applying an epoxy coating as chemicals can fall on your foot and cause severe damage.
Wear safety goggles, gloves, and a protective suit while working with Epoxy.
You should have detailed knowledge about applying Epoxy on countertops to avoid mistakes.
Wrapping-Up
It is paramount that you know "how to fix a bad epoxy job". It doesn't matter if you are a professional or a beginner; you can fix your epoxy mistakes with ease. All you have to do is follow the instructions carefully, work patiently and use the correct materials.
When working with epoxy products, ensure you are working in a ventilated room, eye protection, and wear your gloves. Also, ensure that you know the procedures from A-Z on how to fix epoxy mistakes.
FACEBOOK
TWITTER
INSTAGRAM
LINKEDIN

I'm so excited to tackle all my home improvement projects! From plumbing to DIY and cleaning - I'm ready to get down to work! #homerepair #homecleaning #plumbing #diy
---
---
---