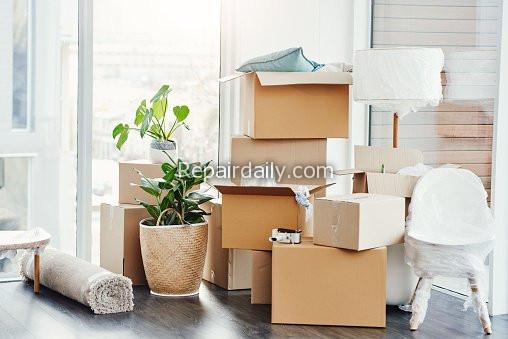 Moving into your new apartment or home can be both exciting and stressful. You will probably be chomping at the bit to start unpacking your boxes and making the space your own. However, while your new digs are relatively empty, now is the time to take care of some essential tasks that are easier to tackle before you start unpacking.
Most people recognize that you should start by washing the floors or changing the locks, but there is a fairly long list of items you will need to address when you move. Once your home is unpacked, it may be too late or more of a hassle to take care of certain things like painting or spraying for pests.
---
If you are able to get access to your new home a few days before you move with Osmon Moving and Storage, you have the advantage of being able to tackle this moving list. Let's take a closer look at a few tasks to take care of before you start unpacking in your new home. 
Clean the Air Ducts
Most people, especially renters, don't pay much attention to the cleanliness of their air ducts. If you are moving into a new rental space or a home that has been empty for some time, you should consider cleaning the ducts. Pollen, dust, dirt, bugs, and cigarette smoke residue can make your ducts dirty and smelly. Bring in the professionals to expertly blow all the debris out of your ducts before you move into your space. If you have any breathing issues like asthma or suffer from allergies, you should make duct cleaning a priority.
Deep Clean the Floors
There will be a ton of traffic on your floors as the old tenants move out, so now is a great opportunity to deep clean your flooring before you start to move in your boxes and furniture. All flooring surfaces should undergo a deep cleaning. Your wood floors should be mopped and resealed, carpets should be steam cleaned, and tiled floors should have their grout cleaned. You will want to start out your life in your new home with sanitized and sparkling floors.
Paint
One of the most common changes you are likely to make in your new home is slapping on a new coat of paint. Before you start unpacking and finding places for all of your decor items, take some time to decide on your paint colors and placement. You will thank yourself for doing your painting before you start moving in all of your stuff. 
Sanitize
Unless you are moving into a newly built home, it will need a deep cleaning. You will need to get down on your hands and knees and give all the surfaces a good scrub. Pay extra attention to your bathrooms, kitchen, door handles, and windows. The pandemic has taught us the importance of sanitization and making sure that high-traffic areas are rid of any lingering bacteria. 
Change the Toilet Seat
This one is optional, but for most people, changing the toilet seat is necessary. It only takes a few minutes, a screwdriver, and less than $20 to install a brand new seat that is all yours. 
Furnace Filters
It is recommended that homeowners change their furnace filters at least every 3 months. However, few owners stick to this schedule. Before moving into your new home, make sure that you change your filter and record what size and style you will need for the future. A dirty furnace filter can limit the efficiency of your HVAC system, spread dirt and pollutants into the air, and clog up your air ventilation system. 
Check Out the Neighborhood
You won't just be moving into a new home but also a new neighborhood. Before you start unpacking, take some time to explore your new area. Get used to the community, introduce yourself to the people on your street or building, and get familiar with your new work commute. You will want to know where you can find shopping, entertainment, restaurants, and recreational spaces. 
Record Any Damage
If you are renting a new place, you never know what type of condition the last tenants will have left the place in. Before you start unpacking your things, it's in your best interest to do a full inspection. Take note of any damage, broken appliances, or needed repairs to discuss with your new landlord. After you have moved in, you don't want to be responsible for any previous damages, especially if you have surrendered a security deposit to your landlord. 
Bug Extermination
Regardless of where you live or how clean the previous tenants were in your new home, you may need to deal with an insect infestation. Before you move in all your boxes, family, and pets, it's best to deal with any bug issues. Bring a professional exterminator to deal with any issues before moving into your new home. The spray used for extermination is often harmful to humans and pets, so it's best to deal with any problems before you move in. 
Emergency Plans
No matter where you live, you should always have an emergency plan. In the case of apartment or condo buildings, you should be familiar with the basic evacuation plan, where the stairways are located, and how you can find help if you need it. In a single-family home, you should know where the general evacuation route is located, how to reach your local hospitals, and where to find emergency shelter. Always make an emergency plan and review it regularly with your whole family. 
As you begin the process of packing up your belongings for a move to your new home, it's important to take the time to make a plan for your new digs. If you have a few days available before you have to move in, or can resist unpacking all of your belongings after you move, tackling these tasks should be a priority. 
FACEBOOK
TWITTER
INSTAGRAM
LINKEDIN

I'm so excited to tackle all my home improvement projects! From plumbing to DIY and cleaning - I'm ready to get down to work! #homerepair #homecleaning #plumbing #diy
---
---
---