A bathroom is a serene place where members of your household can relax, wash away the grime of the day and get ready for the day's tasks. It's also one area in your home you can customize and remodel to suit your day-to-day needs. If you are in the process of seriously upgrading your bathroom and have decided to take the do-it-yourself (DIY) route, consider these handy tips to make your job much easier.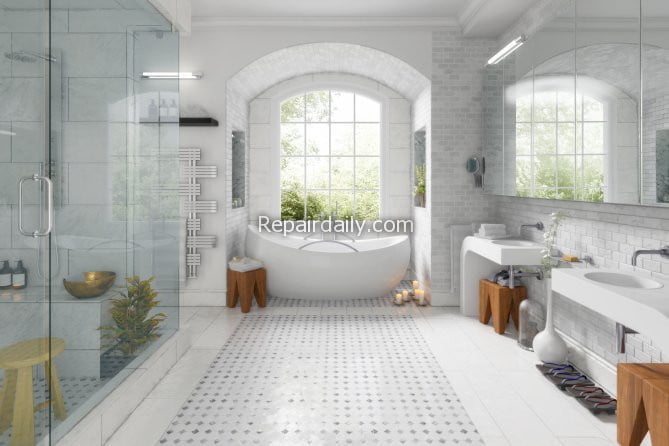 Why Choose The DIY method? 
Choosing the DIY method means you get to save money. You don't have any labor costs to pay for your bathroom renovation ideas. With this extra cash, you can spend it on the materials you want, and you get the opportunity to be creative during the process. For a successful DIY bathroom remodel, consider these great tips. Your bathroom will get the transformation it needs, and you'll be able to enjoy your handy work in the long run.
---
1. Get Larger Mirrors
A mirror is a must-have for any efficient bathroom. Most bathrooms have one hanging above the sink so you can get ready and check your reflection. A large mirror in your bathroom will help give the impression of extra space.
A more oversized mirror will also reflect more natural light into the bathroom, improving visibility and adding aesthetic value to the space. If you can't afford to replace your mirror, there are some simple techniques you can use to make it bigger, such as placing a small light above it. This increases the light reflection in the mirror, providing you with a better view of what you're doing.
For optimum impact, center your mirror or mount it above the sink.
2. Give The Walls A Facelift
The walls in your bathroom can bring all the design elements together. So, it's a great idea to ensure they are clean, well-maintained, and look good. Remember that the walls can set the ambiance in the room and set the style and tone of the bathroom.
You can give them a paint job to freshen up your bathroom walls. This also allows you to change the color and style of the wall to align with your design preferences. Brighter walls can elevate the mood in the bathroom as well.
You can get stylish bathroom wallpaper if you don't want to paint your walls. It adds character to the area and can complement the atmosphere you aim to create in the bathroom.
3. Get Creative With Your Vanity
Your vanity area is where you would usually get ready and prepare for the day. By upgrading your vanity area, you get an opportunity to show off your style and creativity. One way to add life to your vanity is by getting a faux marble or granite countertop. It gives your vanity a stylish finish, and you get to save money.
It would be best if you could also replace the cabinets and cabinet handles to give this area a more sophisticated finish. You may need to contact a plumber if you want to replace the entire vanity. They will be able to advise you on how to do the job safely, or they may help you with the replacement job.
4. Install Stylish Lighting Options
It is critical to have adequate lighting in the bathroom. You want to see what you're doing in the bathroom, especially if you're doing make-up, shaving, or applying touch-ups. For those romantic evenings in the tub, get lights that are bright enough or come with a dimmer.
For accent lighting, place a light above or directly inside the mirror. If you have a regular overhead light, replace it with a brighter, energy-efficient LED light. You'll be brightening up your bathroom while also being environmentally conscious.
It would also help if you acquired innovative light fixtures to place in specific areas of the bathroom to give the room a creative ambiance.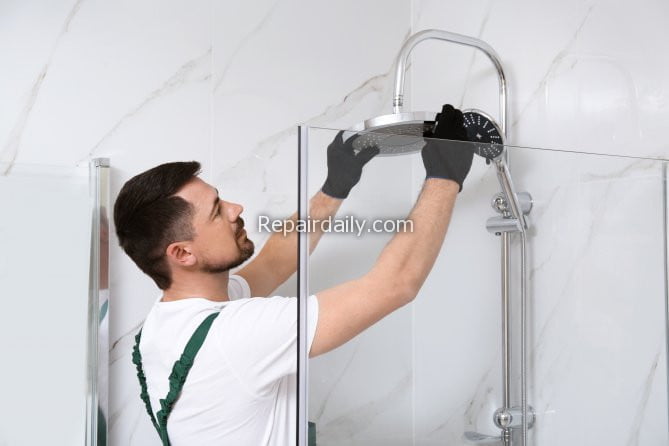 5. Take Note Of Fixtures And Hardware
Bathroom fixtures, finishes, and hardware may give your bathroom a creative flair. They connect all of the bathroom design aspects and can make your bathroom appear more modern. Replace the faucets to refresh the fixtures and finishes in your bathroom DIY style.
You can also upgrade the shower and bathtub fixtures. Perhaps you'd like to adjust the showerhead's height or replace it entirely. In terms of bathroom design, small changes can have a big effect.
You can even get creative and make your own customized towel or toilet paper hooks. This improves the bathroom's functionality while adding an elegant yet unique touch.
6. Replace The Tiles Surrounding The Shower And Bathtub
By replacing the tiles that surround your shower and bathtub, you get the opportunity to be creative and bold in your tile choice. New tiles make the entire bathroom feel fresh, and when done right, it can enhance the space more luxuriously.
You can adopt the herringbone pattern when installing your new tiles because it gives your floors a classical finish. Make sure to waterproof the tiles to prevent any accidents from occurring.
7. Add-In Creative Yet Functional Details
Lastly, to finish off your DIY remodeling project, add any creative yet functional details to the bathroom. This can be anything from extra storage space or making your hooks to hang up towels or toothbrushes. You get a chance to let your personality shine through.
Think about what you've always wanted in your bathroom. Perhaps you want some indoor plants in the bathroom but have no place to put them up? Build yourself a cute shelf for your plants, or extend the window sill for more space.
Whatever you envision, the sky is the limit!
Conclusion 
Following these simple DIY tips, you can remodel your bathroom without hassle. Your personality and creativity shine through, and you add more functionality to the bathroom. In addition, always consult a professional when working with the plumbing or lighting to prevent any damage. You'll have a brand-new bathroom in no time and get to soak up and enjoy the fruits of your labor.
FACEBOOK
TWITTER
INSTAGRAM
LINKEDIN

I'm so excited to tackle all my home improvement projects! From plumbing to DIY and cleaning - I'm ready to get down to work! #homerepair #homecleaning #plumbing #diy
---
---
---